Enjoy it, Melbourne. It might be a little breezy out there, but skies are clear and temperatures are mild, and things aren't going to stay that way for long.
As we first told you on the weekend, then in greater detail yesterday, a strong cold front and associated low pressure system are set to tool things down drastically in the whole of southeastern Australia.
Getting polar air into the mid-latitudes tends to involve multiple low pressure centres giving each other piggybacks, as is happening here. pic.twitter.com/LcbQzaYQhE

— Andrew Miskelly (@andrewmiskelly) May 2, 2022
Victoria, Tasmania and southern NSW will cop the worst of what will likely be quite a slow-moving system that lingers for several days, and Melbourne will start feeling its effects by Wednesday.
As we write this story around lunchtime on Tuesday, the mercury is hovering between about 19°C and 20°C across Melbourne, en route to a predicted top of 21°C, after temps topped 22°C yesterday.
But that's the last time Melbourne will see temperatures beyond the mid teens for at least a week or so, and perhaps for much longer as we near winter.
Melbourne's forecast maximums for the next six days are:
Wednesday: 16°C
Thursday: 14°C
Friday: 14°C
Saturday: 15°C
Sunday: 16°C
Monday: 16°C
Showers can be expected throughout the period, likely heaviest and most frequent on Thursday and Friday, when there is also the chance of small hail.
Friday looks like being the coldest day, with a maximum temperature that will much feel much colder than the official reading due to wind chill.
While Melburnians usually associate the coldest days with southerly winds, the winds will actually be out of the west and northwest. The chart below shows how that works. Note firstly that the red colour indicates wind gust speed, not temperature.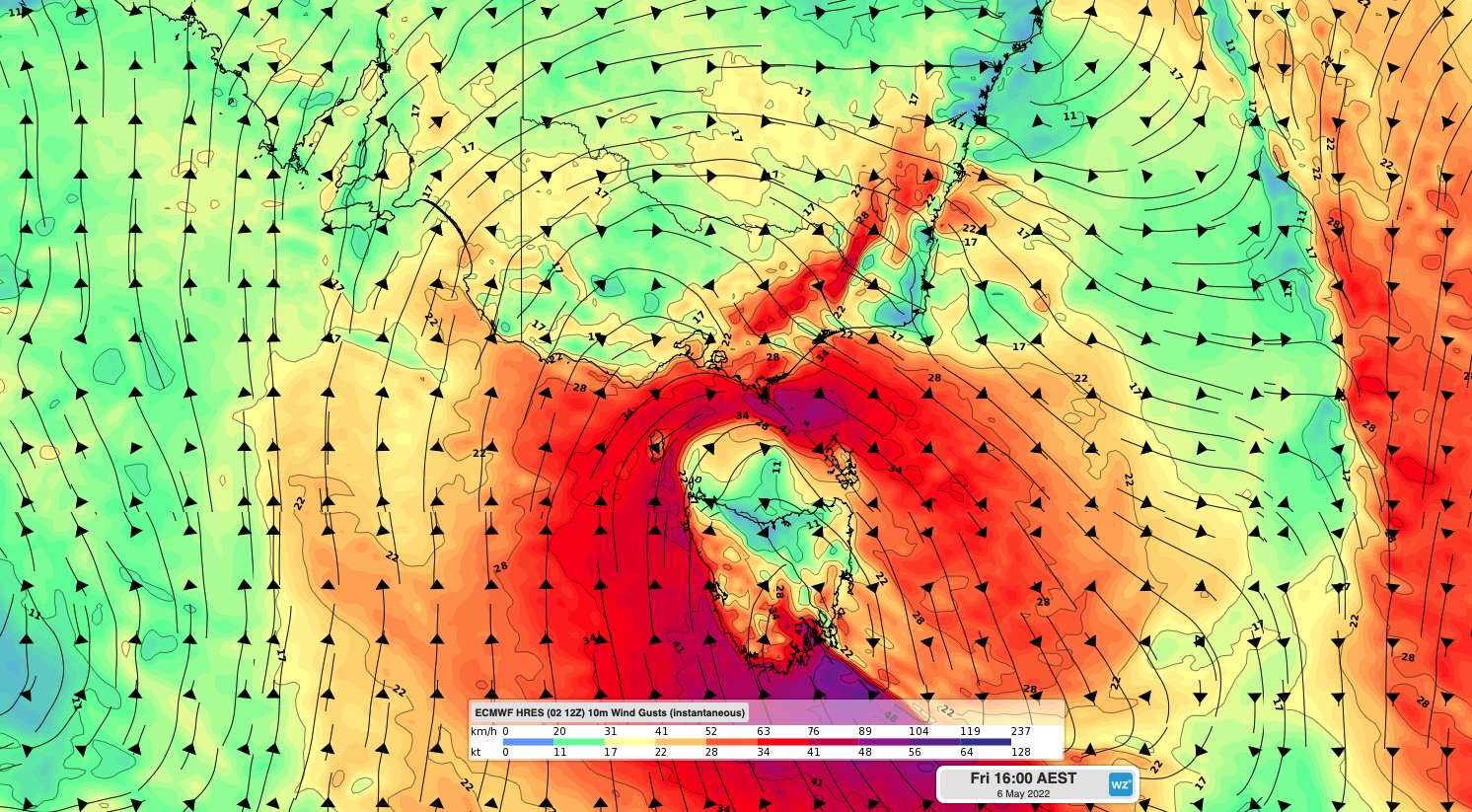 But the key feature is the way the winds originate from the south before hooking in a clockwise direction around the low pressure system that should be positioned more or less directly over Tassie. By the time winds reach Melbourne, they'll have a westerly component, but will still be bitterly cold due to their southerly origin.
So as we say, get out there if you can and enjoy your last few hours of mostly sunny, warmish weather for a while, Melbourne.
While the city can still reach 20°C in any month during brief unseasonable warm spells (and indeed Melbourne historically averages three days of 20°C or higher each winter, or 4.5 such days in the period since 1990), the average max temps for May, June, July and August are 16.7°C, 14.1°C, 13.5°C and 15.0°C respectively.
Weatherzone provides our clients with 14 day temperature and extreme temperature forecasting, along with long term seasonal updates out to 6 months, for more information, please contact us at business@weatherzone.com.au.