A conveyor belt of cold fronts will maintain bitterly cold, wet and windy weather over southeastern Australia throughout the 2nd week of winter.
Australia's southeastern states have been stuck in a pattern of frequent cold fronts since the end of May, keeping temperatures a few degrees below average on most days this past week.
This spell of wintry weather now looks likely to continue for at least another week, as a near-stationary low pressure system in the Tasman Sea drives icy air from the fringes of Antarctica over southeastern Australia.
The sequence of satellite images below shows a cold front crossing the southeast of Australia over the last 24 hours.
This system caused widespread showers and heavy alpine snow. It also kicked off what will be a week of repetitive cold fronts and abnormally cold early-winter weather in southeastern Australia.
The animation below shows modelled air temperature around 1.5 km above the ground, with repetitive bursts of polar air being driven over southern, central and southeastern Australia this week.
This sustained stream of cold air will keep daytime temperatures several degrees below average over parts of several states this week. This includes five of seven state capital cities, including the vast majority of the Australian population:
Adelaide is forecast to reach 14 to 15ºC each day this week, around 1 to 3ºC below average.
Melbourne's maximum temperatures are predicted to only hit 11 to 13ºC all week. This would be the city's coldest week this early in the season since 1982.
Hobart's days should only warm to 9 to 12ºC between Monday and Sunday.
Canberra's maximums should reach about 8 to 11ºC this week, with minimums dropping below 0ºC from Wednesday onwards.
Sydney's daily maximums will range from 15 to 17ºC all week, with minimums reached 6 to 7ºC. This would be Sydney's coldest run of days this early in the season since 1989.
Brisbane's days will only reach about 17 to 19ºC from Tuesday to Sunday, with minimums plunging to 6 to 8ºC. Brisbane has not seen a week this cold, this early in the season, since 1904.
This week's cold weather will be exacerbated by strong winds, rain and snow in multiple states, continuing an impressive start to the ski season in the alps. This will bring yet another week of decent wind and hydro power for facilities across southeastern and southern Australia.
Severe weather warnings for damaging winds were in place on Monday for parts of VIC and NSW. Further warnings are likely to be issued in southeastern Australia later in the week, most likely with the passage of cold fronts on Thursday and the weekend.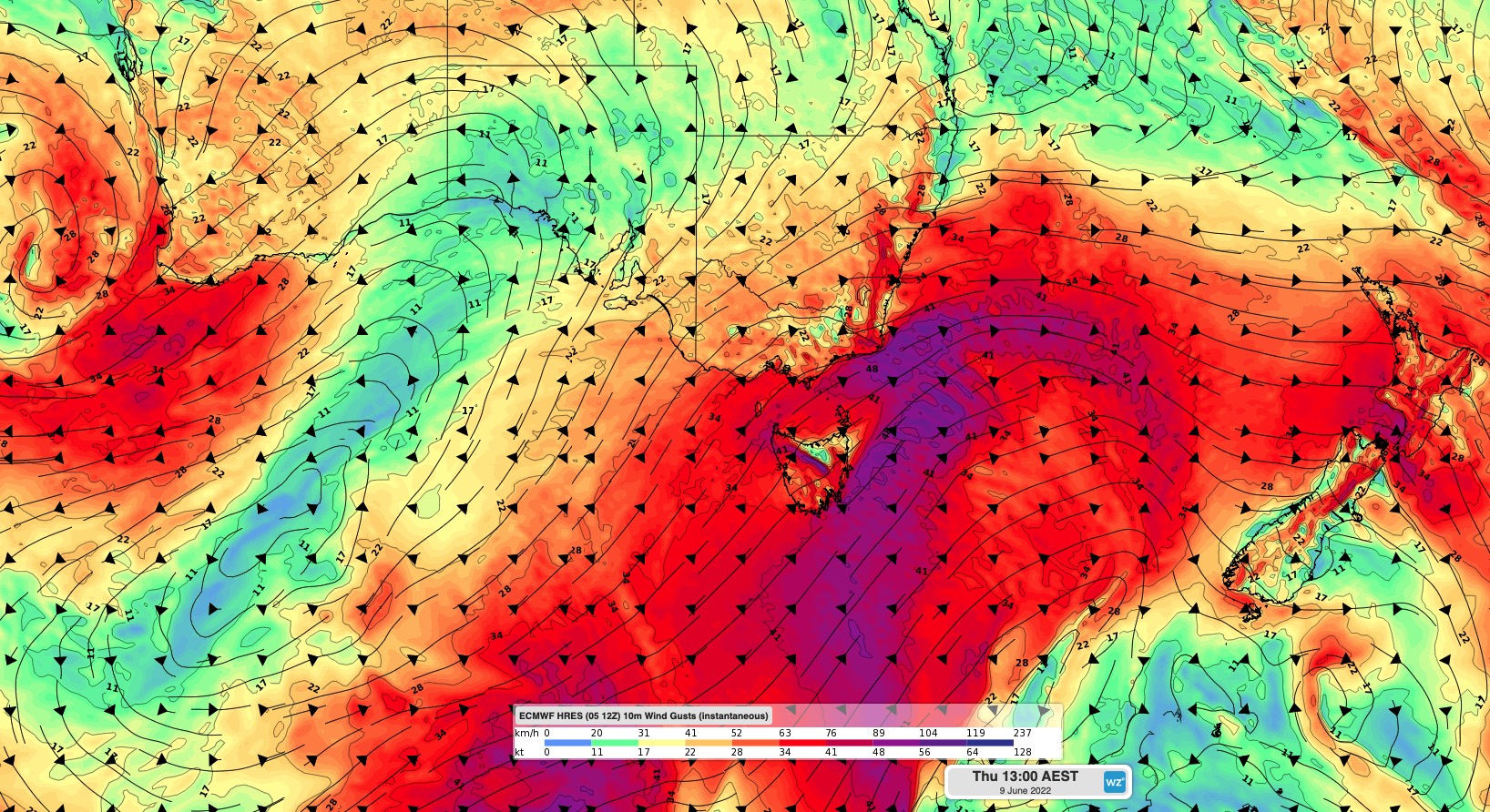 Image: ECMWF instantaneous wind gust forecast at 1pm Thursday, June 9.
Showers will be frequent along coasts and mountain areas of southeastern Australia that are exposed to southwesterly winds. The map below shows one model's predicted accumulated rain for this week, with the heaviest falls in western TAS, southern and eastern VIC and across the southern ranges in NSW.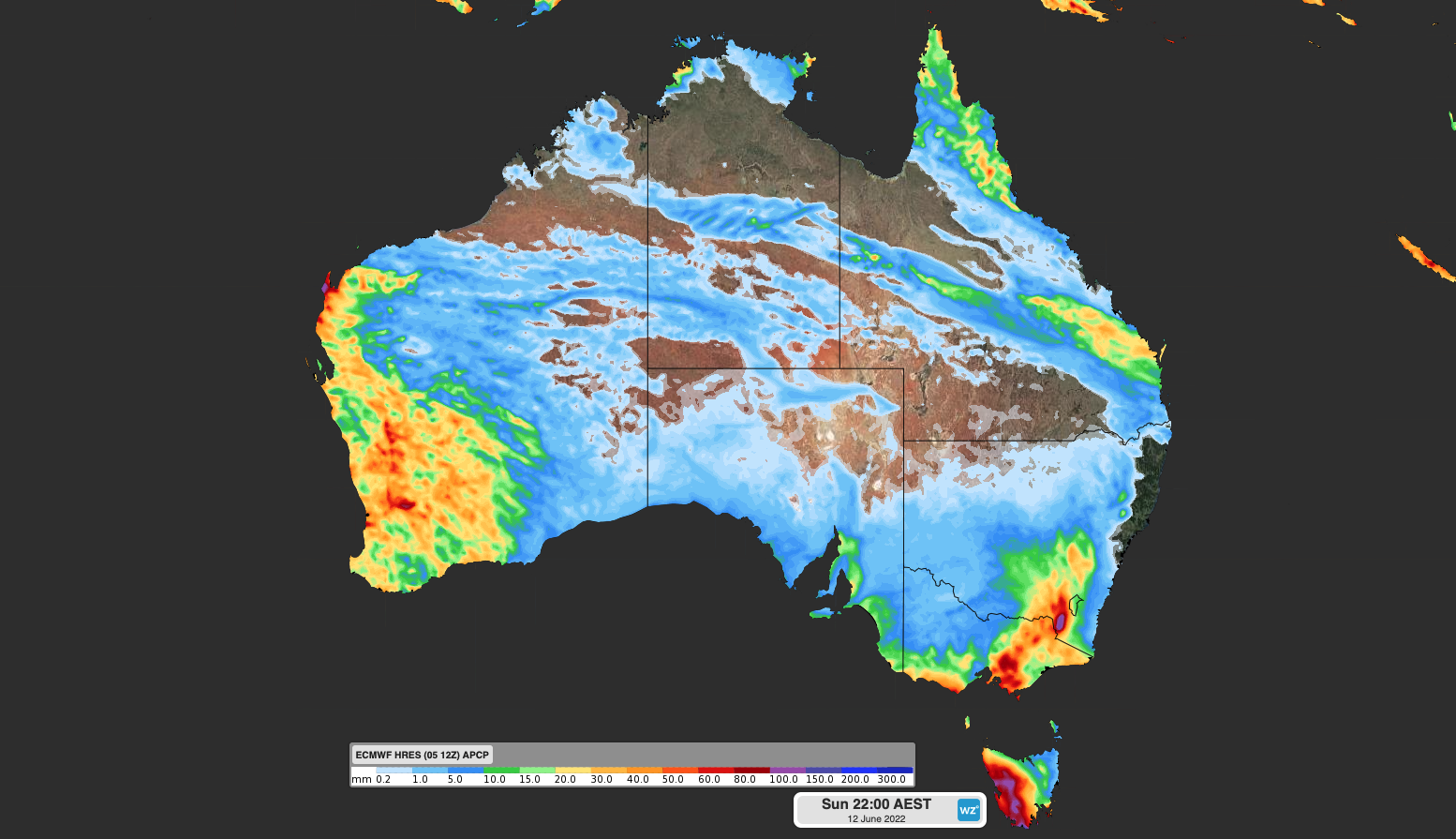 Image: ECMWF model's accumulated rain forecast during the week ending on Sunday, June 12.
Almost all this precipitation rain will fall as snow in the mainland Alps amid persistently cold temperatures. By the end of this week, most of the main ski resorts will have seen more than one metre of natural snow in the past fortnight.
Weatherzone's Energy services are designed to put the power back in your hands. Our principle value proposition to the energy industry is the timely delivery of highly accurate weather information, to allow intelligent and effective decision making, reducing weather risk and maximizing profit. Weatherzone leads the energy industry with a wide range of products and systems that allow better visibility on forecast generation (such as wind and solar) as well as demand.
No matter how volatile the market is, Weatherzone's energy services are designed to give you the tools to understand risk and make quick and correct decisions. For more information, please contact us at business@weatherzone.com.au.