Brisbane is on track to register its coldest July in more than 30 years based on daytime temperatures, as southern QLD braces for another cold snap in the coming days.
Southeast QLD has been unusually cold this month thanks to frequent burst of cold air travelling up from the Southern Ocean, and a few days of thick clouds and persistent rain.
Brisbane's two coldest days of this month were July 4th and 5th, which only reached 14.2ºC and 14.0ºC respectively. These maximum temperatures were well below the city's long-term average of 22ºC and were its coldest pair of days since 1956.
As of 5pm on July 26, only five days of this month had exceeded the city's long-term July average of 22ºC.
Based on the observed temperatures up to 5pm on July 26 and the forecasts for the rest of the month, Brisbane is on track to have a monthly average maximum temperature of around 19.9ºC. This would be Brisbane's coolest July since at least 1989 based on daytime temperatures.
The rest of this week will also be noticeably cold over a broad area of southern and central QLD as a cold air mass spreads across the state from the south.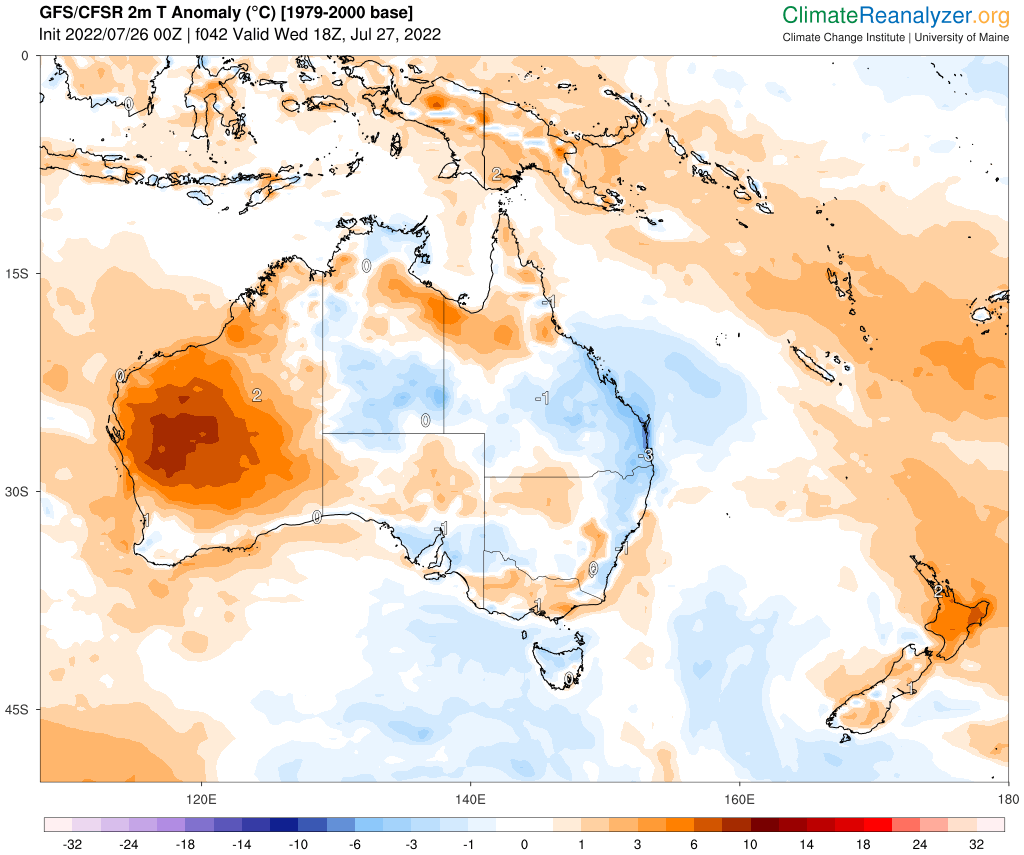 Image: Predicted surface air temperature anomaly on Thursday morning, according to the GFS model. Source: ClimateReanalyzer.org
The combination of this cold air with clear skies and light winds will allow morning frost to develop over parts of southern inland QLD from Wednesday to Saturday. During this cold snap, temperatures in Stanthorpe could dip to around -1ºC to -2ºC for four to five mornings in a row. For more information, please contact us at business@weatherzone.com.au.