An intense heatwave lasting at least two days is about to strike the UK, with large parts of the country likely to see temperatures in the mid-to-high 30s, and the potential for the first day on record when the mercury tops 40°C.
The previous highest reading in the UK was 38.7°C at Cambridge in 2019
The hottest temperature ever recorded in London was 37.8°C at Heathrow in 2020.
Both of those records appear highly likely to be broken on Tuesday, with the UK Met Office forecasting Cambridge to reach 39°C around 4 pm on Tuesday, while London is expected to reach at least 38°C between 2pm and 4 pm on Tuesday
This is an extremely serious weather event for a country which is unaccustomed to spells of extreme heat (although they have become more frequent in recent years), and it has been in the forecast for several days now.
On Friday, the UK Met Office issued its first ever Red Weather Warning for "an exceptional hot spell on Monday and Tuesday leading to widespread impacts on people and infrastructure".
For the first time temperatures of 40°C have been forecast in the UK and the first ever Red warning for exceptional heat has been issued.

Find out more in our press release 👇

— Met Office (@metoffice) July 15, 2022
The office warned people to expect:
Population-wide adverse health effects experienced, not limited to those most vulnerable to extreme heat, leading to serious illness or danger to life.
Substantial changes in working practices and daily routines.
High risk of failure of heat-sensitive systems and equipment, potentially leading to localised loss of power and other essential services, such as water or mobile phone services.
Significantly more people visiting coastal areas, lakes and rivers, leading to an increased risk of water safety incidents.
Delays on roads and road closures, along with delays and cancellations to rail and air travel, with significant welfare issues for those who experience even moderate delays.
The map below shows the expected heat at 4pm BST (British Summer Time) during the absolute peak of the heatwave on Tuesday, July 19.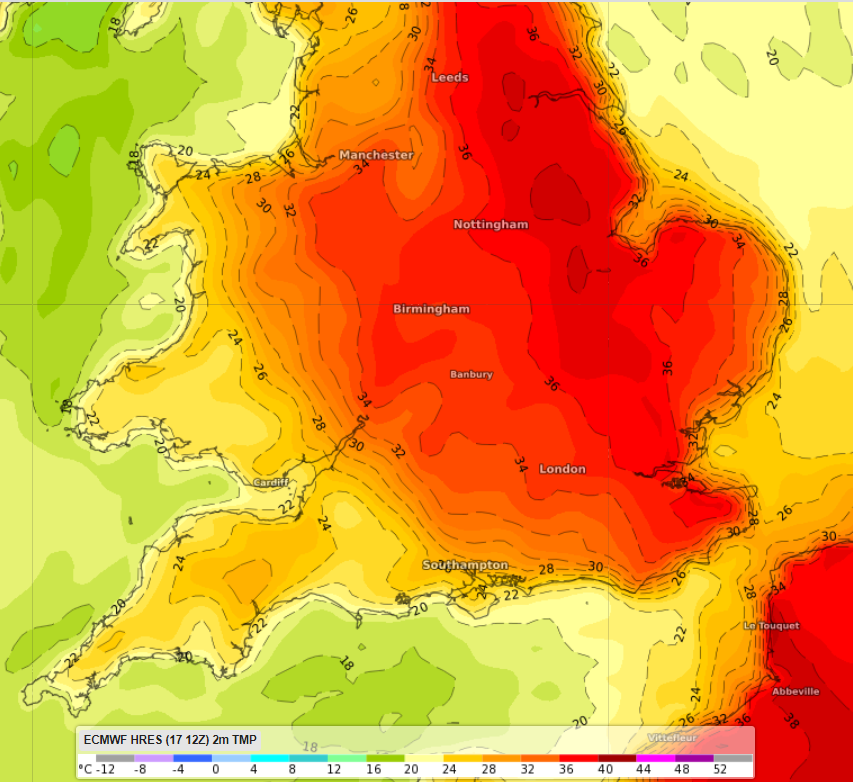 Image: ECMWF 2m temperature forecast at 4pm BST on Tuesday, July 19. In a word, hot!
While there is no large patch of dark red indicating temperatures of 40°C, the Met Office said on Friday that a reading of 40°C or higher was a 50% probability. We'll keep you posted if and when that happens.
The heat is also expected to affect northern France, including Paris, which is looking at a likely top of 41°C on Tuesday. The French capital's highest temp on record was 42.6°C in 2019.
What's causing this heat?
A low to the west of the Iberian Peninsula has been combining with a high over central and eastern Europe to funnel hot southerly winds from northern Africa across Portugal and Spain, France and the UK. Indeed parts of Spain, including Seville, have exceeded 45°C in the past few days.
There's also a slow moving upper level ridge over Spain, France and the UK, which is also contributing to the heat.
The UK Met Office has also stated that extreme UK temperatures of 40°C or higher are "ten times more likely under the current climate than the natural climate, so one that hadn't been affected by human influence".
Will it really hit 40 C within the next week? ☀️🥵

Here's Alex with an explanation of whether or not we think it's likely to happen 👇 pic.twitter.com/KnsPkJ2qql
— Met Office (@metoffice) July 13, 2022
Meanwhile, top temps in London and the southern half of the UK will return to the mid-twenties from Wednesday onwards for the next few days. That would normally be classed as a very warm summer spell, but given this week's extreme heat, it will no doubt be seen by locals as cool relief. For more information, please contact us at business@weatherzone.com.au.