Yet another bout of heavy rain is hitting eastern NSW this week, with flooding and landslides likely over the next 48 hours. But is this burst of dangerously heavy rain called a 'rain bomb'?
The term rain bomb has been used frequently across mainstream and social media in recent weeks to describe a spate of heavy rain and flooding events in eastern NSW and southeast Qld.
Meteorology is full of interesting technical terms, including polar vortex, explosive cyclogenesis, wet microburst and sudden stratospheric warming. However, 'rain bomb' is not one of them.
Individual thunderstorms that produce a narrow shaft of heavy precipitation have been casually described as being like a rain bomb. However, the technical term for this phenomenon is a 'wet microburst'.
There is also a phenomenon called 'explosive cyclogenesis', which refers to the rapid intensification of a mid-latitude low pressure system, such as an East Coast Low. Lows that undergo explosive cyclogenesis are sometimes informally referred to as 'bombing lows' or 'bomb cyclones'.
So, what is happening this week?
Like we have seen on several occasions in recent weeks, a stream of moisture-laden air is currently feeding into a coastal low pressure trough near NSW. This weather pattern is near stationary and is being enhanced by a slow-moving upper-level pool of cold air sitting about 5 to 6 kilometres above the ground.
The result of this dynamic weather pattern will be several days of persistent and heavy rain and thunderstorms. While some of the recent heavy rain-bearing systems have targeted northeast NSW and southeast Qld, this week's heaviest rain is likely to fall over the central and southern coast and ranges in NSW.
A severe weather warning and a flood watch have been issued for areas in NSW stretching along the coast and ranges from the Hunter down to the South Coast and Soutern Tablelands.
This week's rain will be heaviest between Wednesday and Friday, with six-hourly falls possibly reaching 50 to 150 mm in some areas. Accumulated totals over this three day period are likely to exceed 100 mm over parts of the coast and ranges in the warning area, possibly reaching 200 to 300 mm in some places.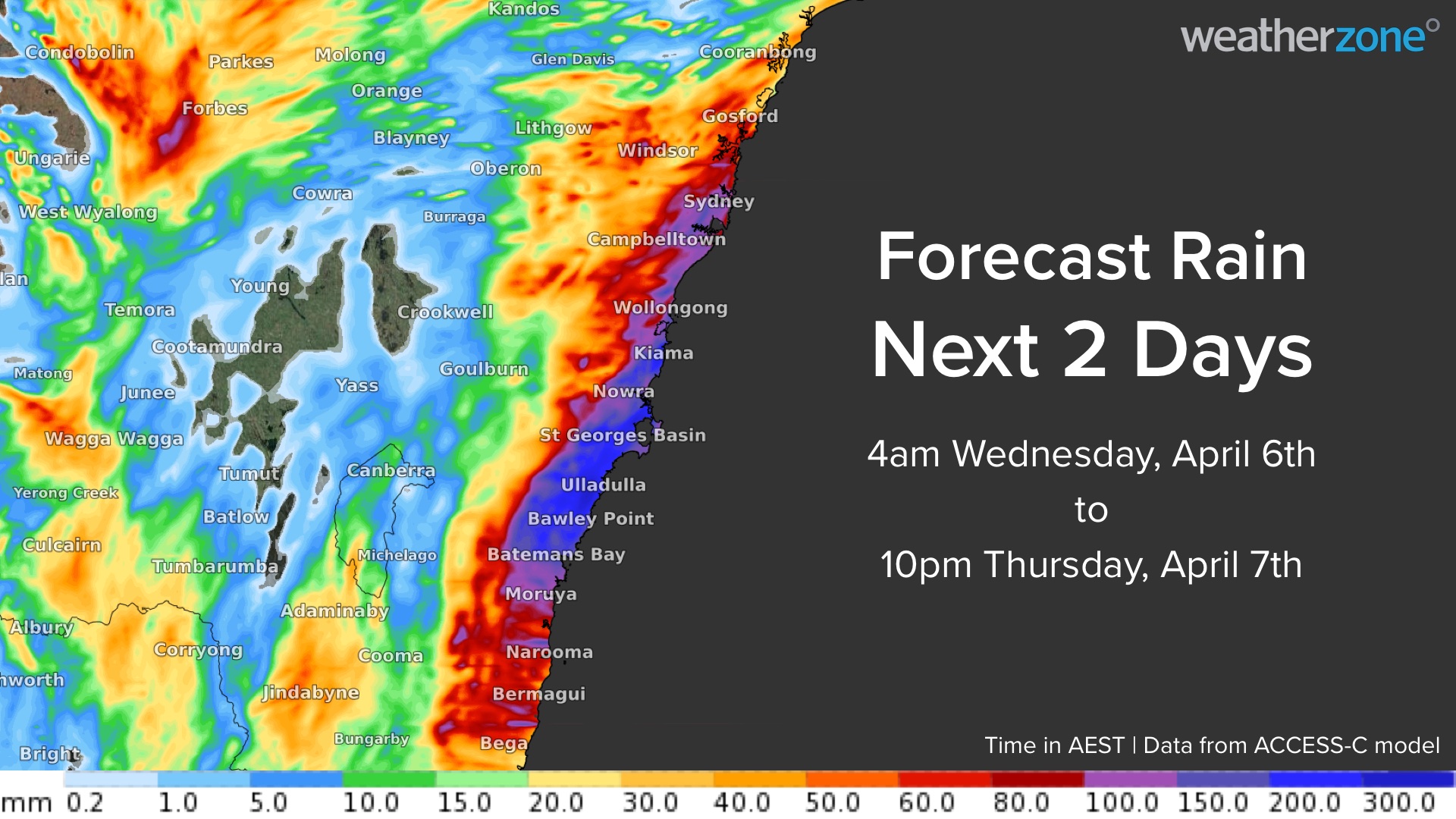 Image: Forecast accumulated rain between Wednesday morning and Thursday night according to the ACCESS-C model.
This much rain falling onto already sodden ground is likely to cause flash flooding, riverine flooding and landslides.
If you are travelling towards Sydney from the west or south to attend the Royal Easter Show, be aware of the flood and landslide risks long the way, especially on Wednesday and Thursday. Anyone attending the Royal Easter Show in Sydney should also be prepared for wet weather this Friday and Saturday.
You can check the latest severe weather warnings and flood warnings here and find the latest road closures here. For more information please contact us at business@weatherzone.com.au.