Flooding rain, thunderstorms and dangerous winds will spread over southern and southeastern Australia during the next two days, with warnings in place for several states.
A series of cold fronts and low pressure troughs are sweeping across southern and southeastern Australia this week as a large and complex low pressure system passes to the south of the country.
Wednesday
One of this week's cold fronts will cause a surge of strong winds and showers in TAS, VIC, NSW and the ACT on Wednesday.
Damaging winds are possible along the ranges in northeast VIC and southern NSW on Wednesday with the passage of this front, with severe weather warnings in place.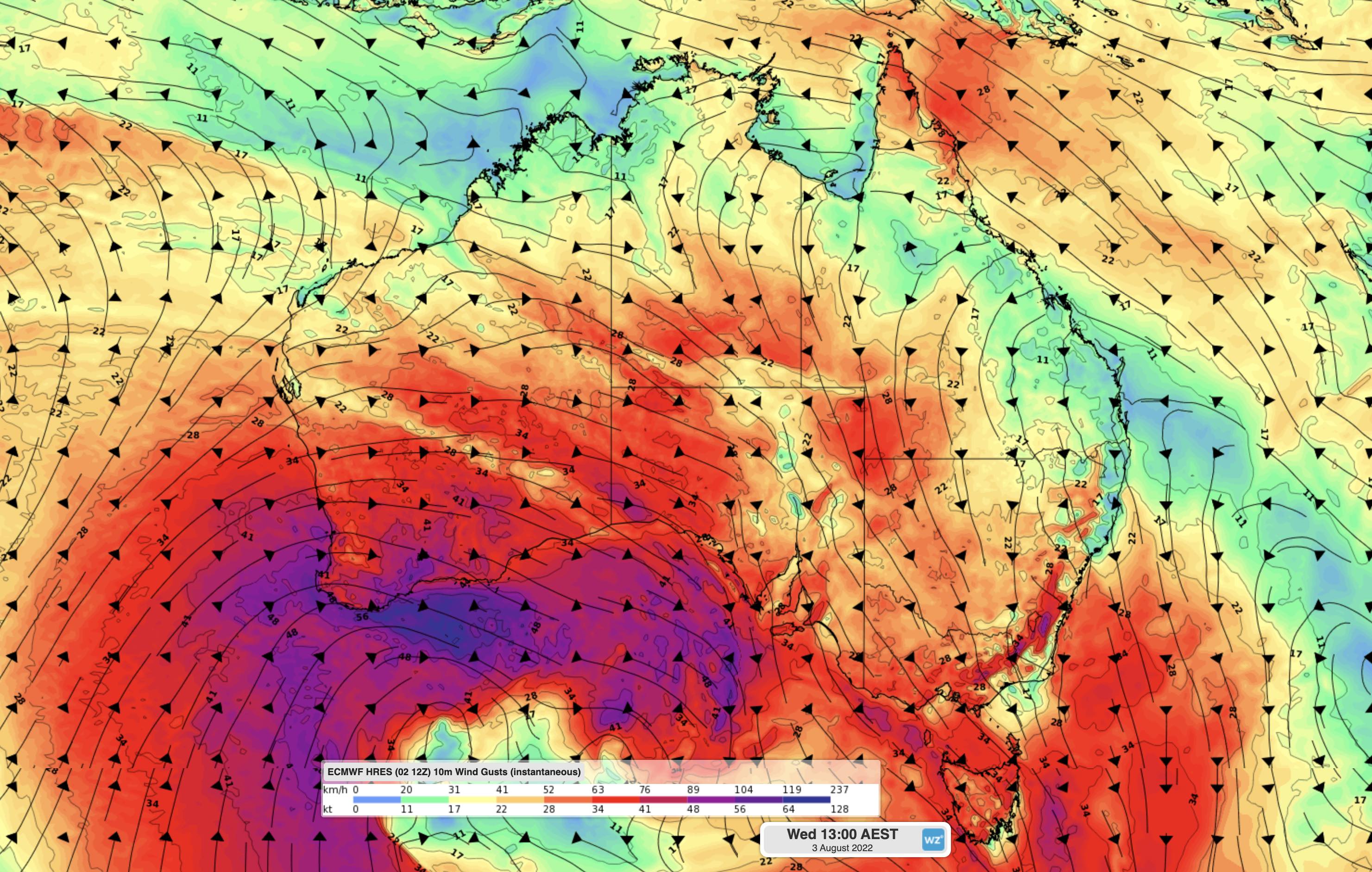 Image: Forecast wind gust speed and direction at 1pm AEST on Wednesday, according to the ECMWF-HRES model.
Showers and storms will also affect parts of northern TAS from Wednesday with a severe thunderstorm warning and flood watch in place as of 11am AEST on Wednesday.
Another front will sweep over the southern half of WA on Wednesday, causing more damaging winds and squally showers. This powerful system will produce severe weather in areas of the state that have already been hit by damaging to destructive winds earlier this week. As of 9am AWST, a severe weather warning was in place across the state's southern and southwestern districts, including the Central Wheatbelt and parts of the Goldfields districts.
Thursday
On Thursday, the cold front over WA will move further east and cause more dangerous winds, heavy rain and potentially severe thunderstorms to develop over southern and southeastern Australia.
A large area of SA and some elevated areas in VIC and NSW are likely to experience damaging winds on Thursday, with gusts likely to exceed 90km/h.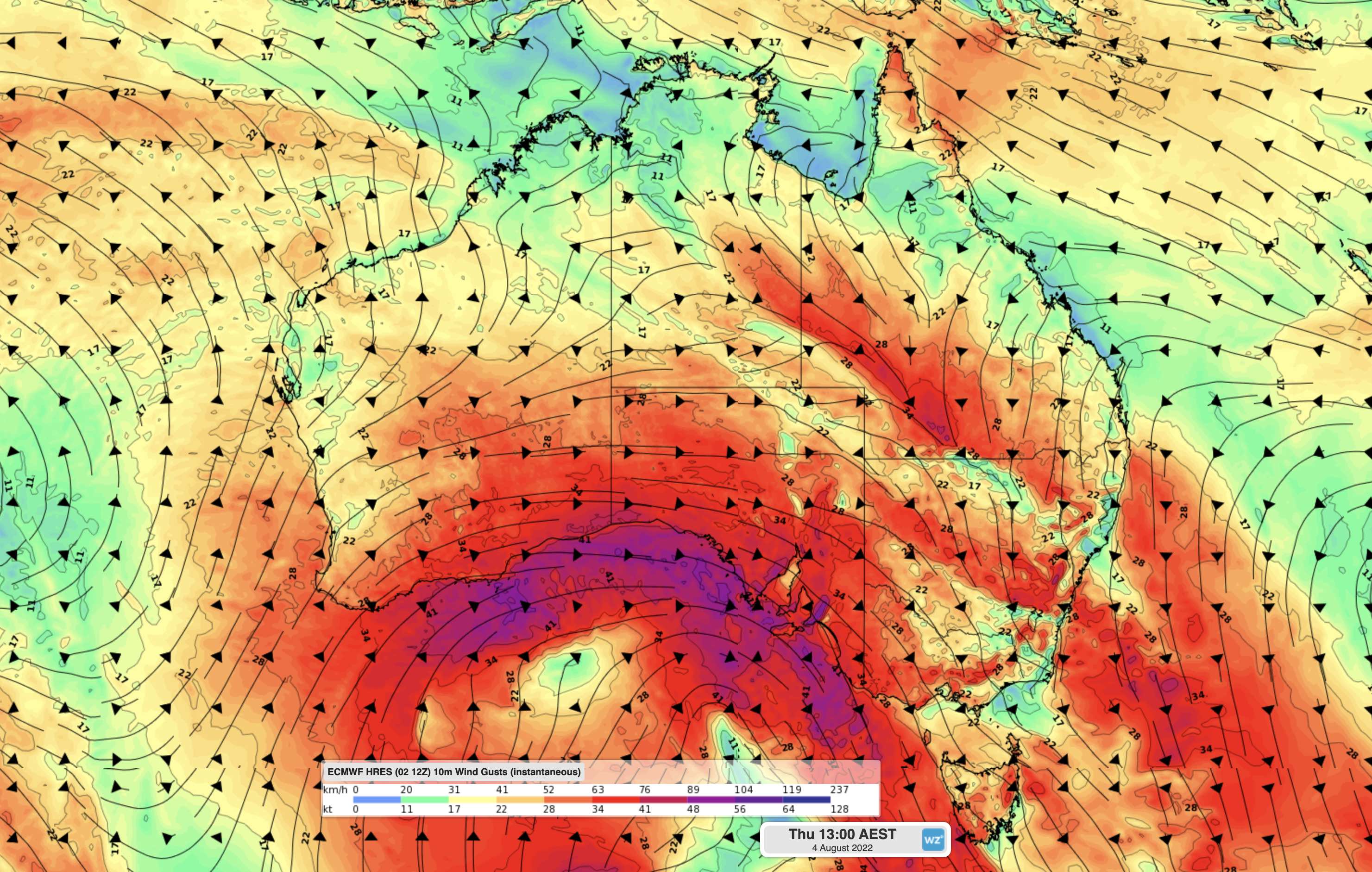 Image: Forecast wind gust speed and direction at 1pm AEST on Thursday, according to the ECMWF-HRES model.
In addition to causing these dangerous winds, the eastward-moving front and trough will also interact with a stream of moisture from the tropical Indian Ocean to produce a thick northwest cloudband.
This cloudband will cause widespread rain and thunderstorms over NSW, the ACT and VIC on Thursday, with showers and storms also likely to affect parts of TAS and southern SA near the low pressure system.
Rainfall totals of 10 to 30 mm are likely over a broad area of southeastern Australia on Thursday. The heaviest rain will be in central and southern inland NSW and the ACT, where 24-hour totals could exceed 150 mm on and west of the ranges, with six-hourly rainfall rates possibly reaching 50 to 60 mm.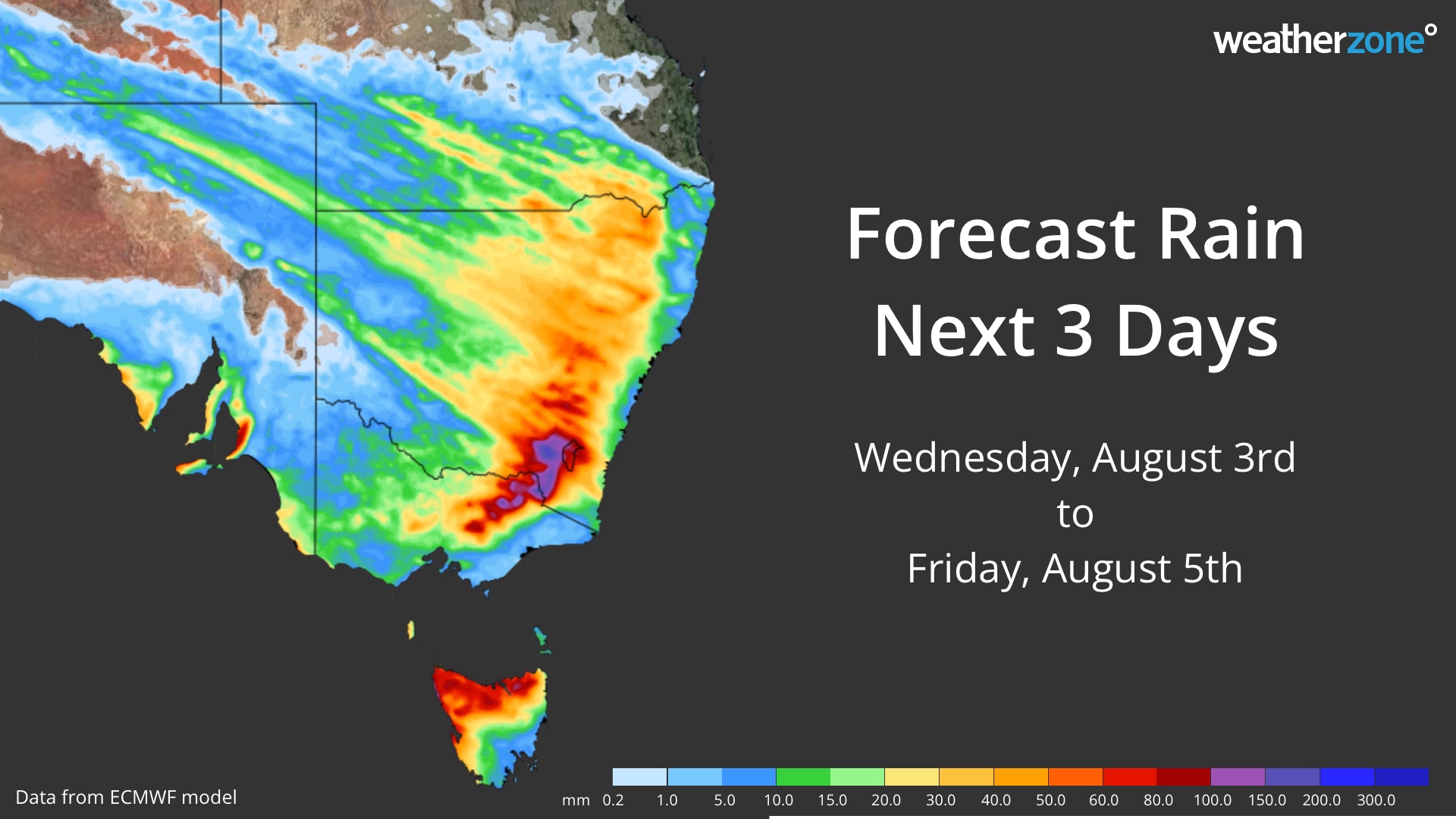 Image: Forecast accumulated rain during the next three days according to the ECMWF-HRES model.
Thursday's impending rain has prompted severe weather warnings for heavy rainfall in parts of NSW, the ACT and VIC. Flood watches are also in place for potential riverine flooding over parts of Central West and South West NSW, North East VIC and Northern TAS.
Friday
Areas of heavy rain will spread over the northern ranges and tablelands in NSW and southern QLD on Friday as the trough shifts further north. Showers and cold, blustery winds will also continue to affect parts of SA, VIC, TAS and southern NSW, including a fresh layer of highland snow.
Severe weather warnings and flood advisories will be updated regularly during the next few days, so be sure to check the latest alerts in your state or territory. For more information about Weatherzone's heavy rainfall and damaging wind forecasts, please contact us at business@weatherzone.com.au.