Perth only picked up 5 mm of rain during March as the city continues one of its driest starts to a year on record.
While large areas of eastern Australia were being inundated with heavy rain and flooding during March, Perth and many other areas of the country's west coast were very dry.
The city only received 5mm of rain during the entire month, which is only one quarter of the long-term monthly average. It is also Perth's driest March in four years.
Perth's paltry March rainfall brought the city's running total for 2022 up to 6.6 mm. This is the city's lowest January-to-March total since 2mm in 2004.

Image: Perth's observed rainfall totals during the last 12 months, compared to the long-term averages for each month.
Perth's dry weather in recent weeks and months has partially been caused by a prolonged positive phase of the Southern Annular Mode (SAM).
The SAM is an index that measures the north-south displacement of the westerly winds that flow between Australia and Antarctica. When the SAM is positive, these westerlies shift further south, which can limit rainfall over southwestern Australia.
By contrast, a positive SAM typically increases rainfall over eastern Australia during summer, and this was certainly the case in March. While Perth only saw 5 mm of rain during the month, Sydney collected 554 mm.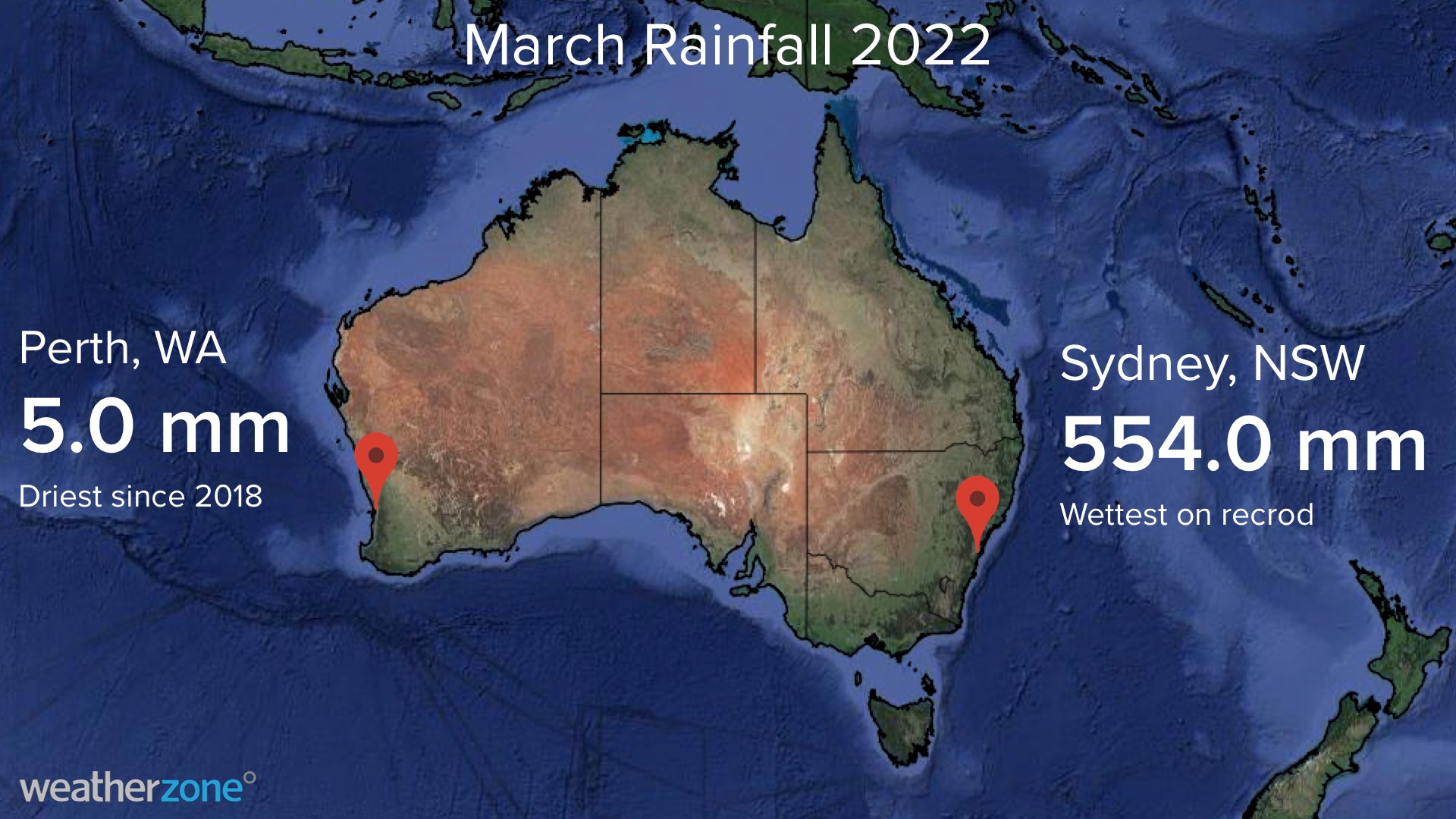 Sydney's March rain was a new record for the city. It also brings Sydney's running annual total up to 1076.2 mm, which is the highest January-to-March total in records dating back to 1859.
Weatherzone's long-range forecasts from November last year indicated a wet March across eastern Australia, while a dry month for the west. This forecast was based on climate drivers such as positive SAM and La Niña, which both influence Australia's weather. For more information on our seasonal forecasts which include rainfall, heavy rainfall and flood, heat extremes and heatwaves and thunderstorm risks and forecasts, please contact us at business@weatherzone.com.au.