Dangerous rain and thunderstorms continue to lash parts of Tasmania this morning as a complex low pressure system drives a vigorous stream of moisture-laden air across the state.
The developing low has already dumped more than 100mm of rain and produced wind gusts above 100 km/h in parts of southern Tasmania during the last 24 hours. The animation below shows rain and storms spreading over the state during Thursday night and Friday morning.
The state's heaviest rain during the 24 hours to 9am on Friday was 124 mm at kunanyi / Mount Wellington, which was the peak's heaviest rain in two years. Nearby, Hobart's 85.2 mm during the same period was the city's highest daily total since 2018.
Damaging winds have also been recorded in some parts of the states, with gusts reaching 109 km/h at kunanyi / Mount Wellington and 107 km/h at Cape Bruny early on Friday morning.
It was even cold enough for some of the precipitation to settle as snow in the Central Highlands of Tasmania, covering the ground white at Miena and Liawenee on the fringes if yingina / Great Lake.
Weatherzone's Total Lightning Network detected roughly 10,000 lightning strikes within a 200 km radius of Hobart during the 12 hours ending at 10am AEST on Friday.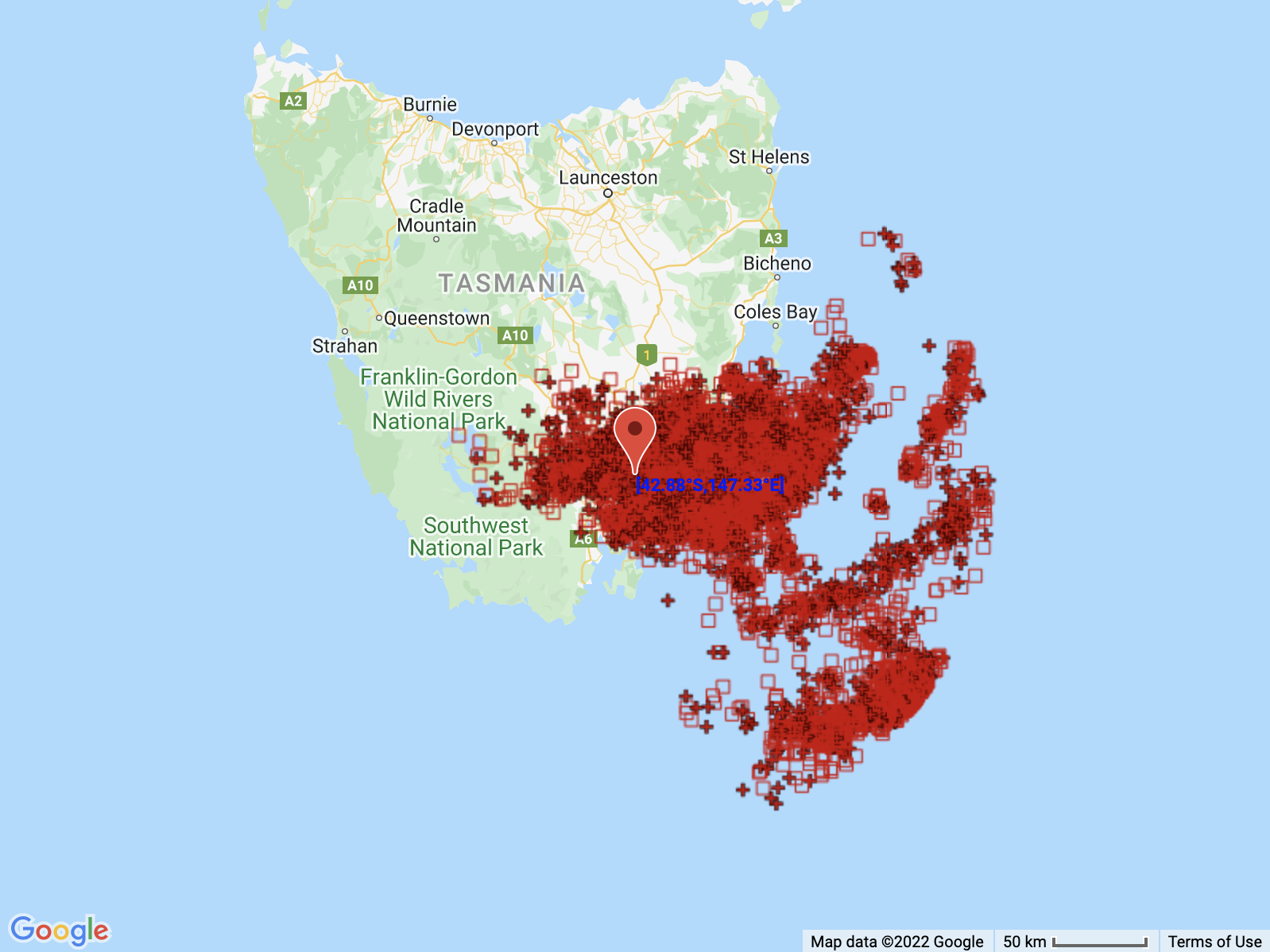 Image: Locations of 9,612 lightning strikes detected within a 200 km radius of Hobart between 10am on Thursday and 10am on Friday, local time.
As of 10am AEST on Friday, heavy rain, dangerous thunderstorms and blustery winds were still affecting some southern and eastern parts of Tasmania, with a severe thunderstorm warning and severe weather warning in place. Fortunately for Hobart, the severe storms had moved south of the city by 9am.
Rain and wind should start to ease in southern and eastern Tasmania later on Friday as the low pressure system moves over land and weakens. However, areas of heavy rain, thunderstorms and blustery winds could still affect parts of the state into Friday night and Saturday, before the low finally moves away from the state on Saturday evening and Sunday.
Be sure to check the latest warnings for the most up-to-date information on this evolving weather event. For more information on Weatherzone's storm tracking and alerting, please contact us at business@weatherzone.com.au.