It's looking like the final week of March will be very wet across large areas of eastern, western and northern Australia.
Several features will combine to cause heavy rain over Australia in the coming week:
La Niña is still active in the Pacific Ocean, pushing more moisture-laden air towards Australia.
The Madden-Julian Oscillation (MJO) is active in the Australian region, which is enhancing rain and thunderstorm activity in the tropics.
Abnormally warm sea surface temperatures surrounding Australia are enhancing evaporation, which is feeding moisture into the atmosphere above the continent.
Ex-tropical cyclone Charlotte and other developing tropical lows will help drag tropical moisture across Australia.
Waves of cold upper-level air passing over Australia will cause the atmosphere to become unstable, which will convert the abundant airborne moisture into clouds, rain and thunderstorms.
The video below shows two fields: precipitable water and the height of the 500 hectopascal pressure level in the atmosphere. Precipitable water is simply a measure of how much moisture is available in the atmosphere to cause rain. The 500 hPa height is associated with the temperature of the atmosphere, with lower heights representing areas of cold upper-level air. When cold upper-level air interacts with abundant moisture, you typically see plenty of rain and thunderstorms.
In the video above, the white rings over eastern and western Australia show two pools of cold upper-level air interacting with copious moisture (blue and pink shading) in the coming week.
The result of this setup will be widespread rainfall over large areas of Australia during the final week of March.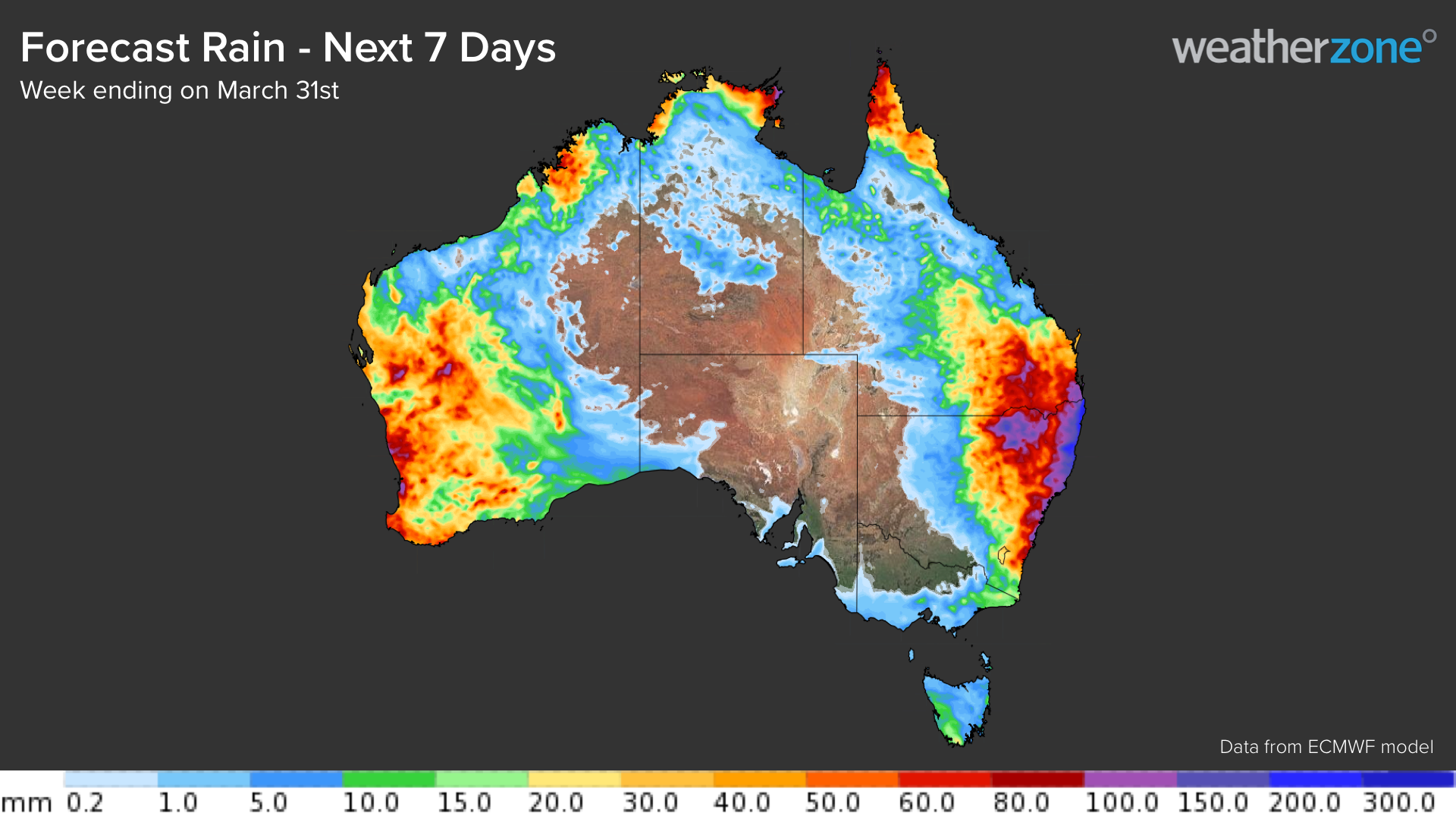 Eastern Australia
Rain and thunderstorms are likely to affect a broad area of eastern Australia between now and the middle of next week, stretching from central Qld down to southern NSW. Rain and storms will occur each day over the next seven days, with locally heavy falls and severe thunderstorms likely throughout this period.
While there is some uncertainty around exactly where and how much rain will fall, most forecast models expect more than 100mm of rain to fall along the north coast and ranges in NSW. Similar totals may also accumulate in over southeast Qld, and the northern inland and central coast and ranges in NSW.
The coming week's rain will be falling over already saturated catchments in both NSW and Qld. This will make it hard for rainfall to soak into the ground, which will enhance runoff and exacerbate the risk of flash and riverine flooding. Flood watches and severe thunderstorm warnings have already been issued in some areas.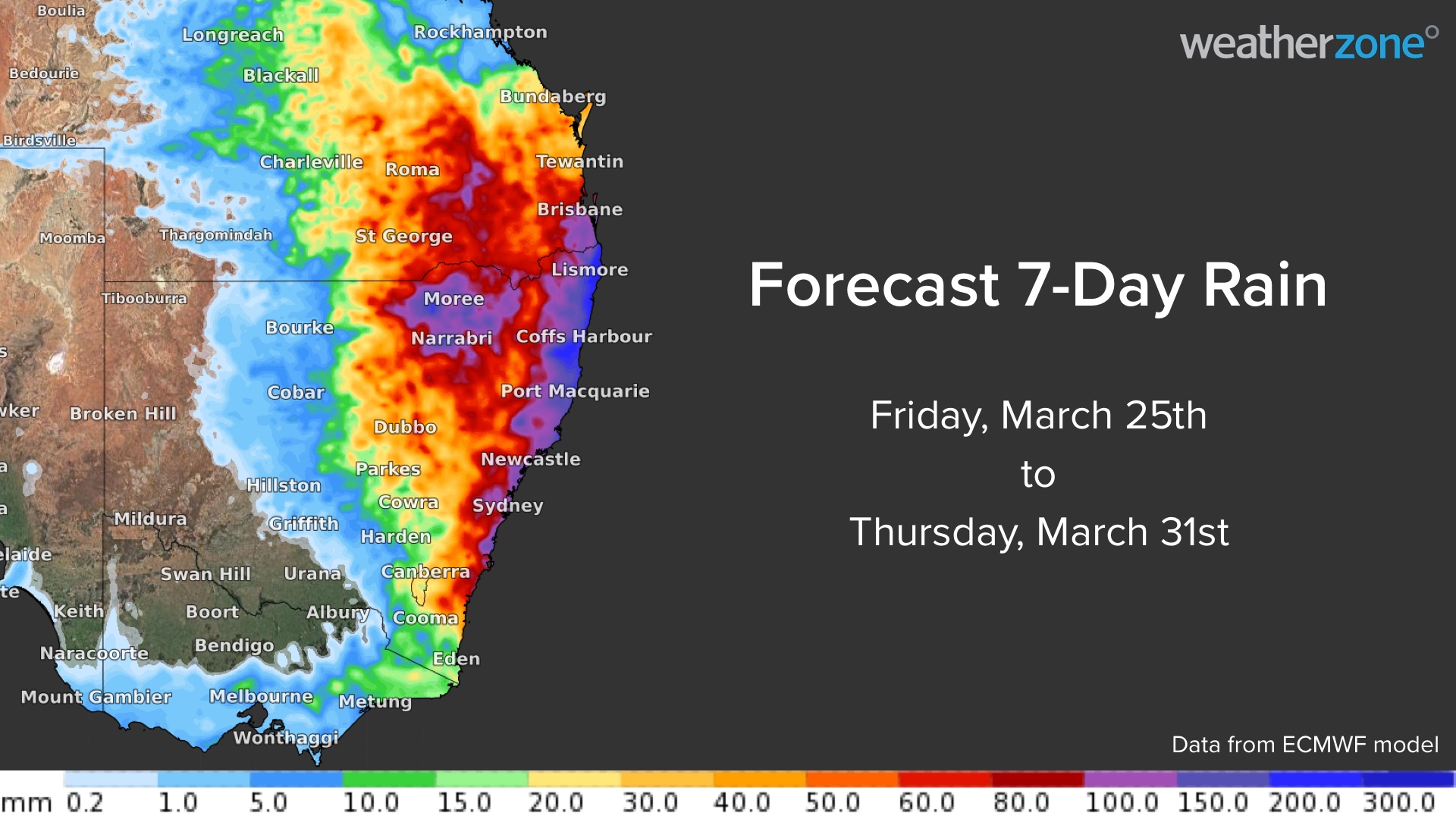 Western Australia
After a dry and hot summer, parts of western and northern WA are set to see a wet week as moisture associated with several low pressure systems feeds across the state.
Much of this rainfall will be caused by Ex-tropical cyclone Charlotte, which will linger off the western coastline of WA in the next four days or so. Charlotte is dragging tropical moisture south towards WA and should enhance rainfall in the region at least until mid-next week.
There are also signs of other low-pressure systems developing over the Indian Ocean in the coming week, which could drive more tropical moisture over WA.
Models are predicting that the combined impact of Charlotte and the other lows could cause weekly rainfall totals of 60-80mm for parts of northern and western WA, with some pockets of around 100mm possible.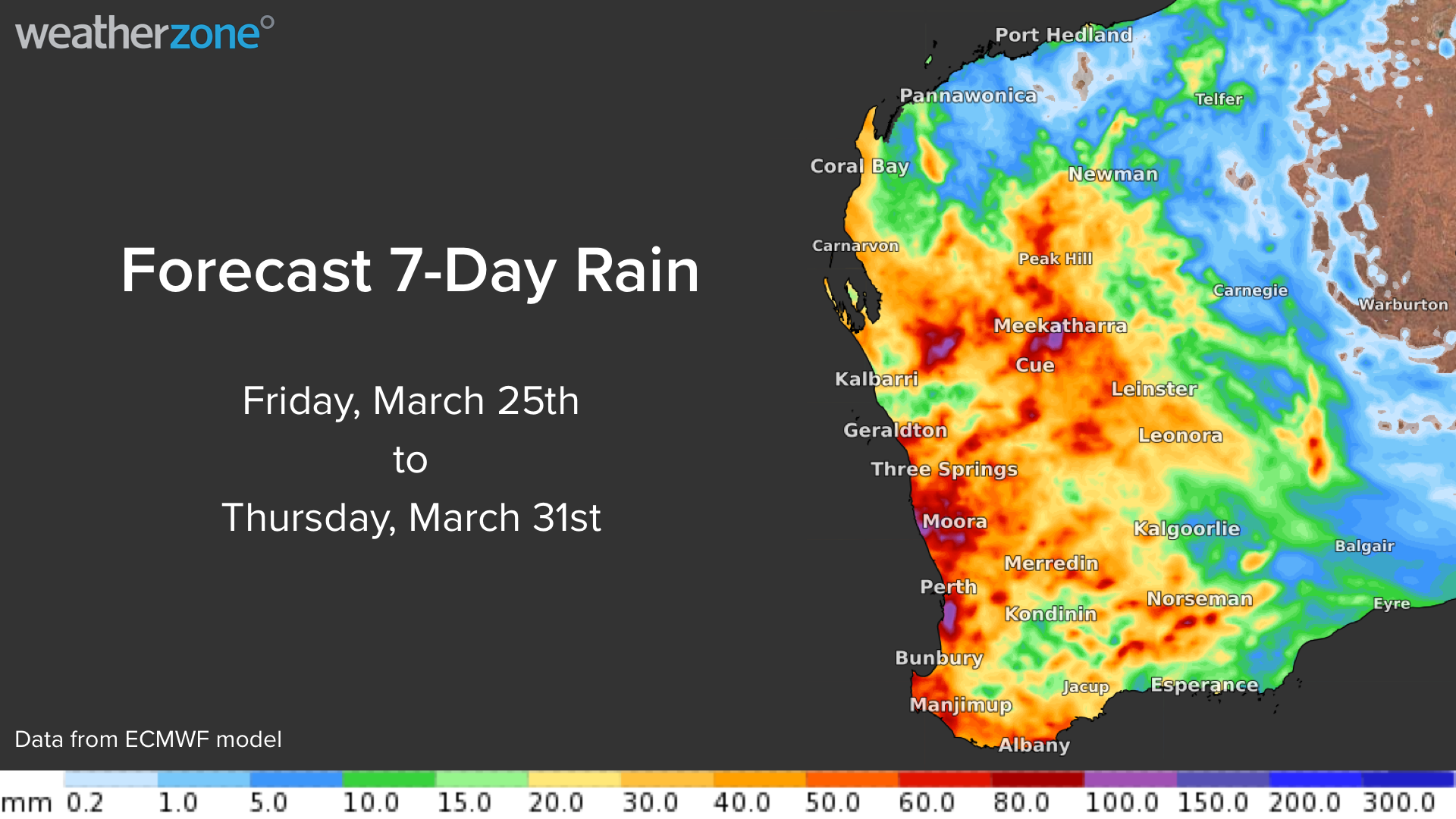 Northern Australia
A series of low-pressure troughs and low-pressure systems will cause rain and thunderstorms to increase over northern parts of WA, the NT and Qld during the coming week.
This rain may be enhanced over the Top End and Far North Queensland when a low-pressure system develops this weekend. There are early indications that this low has the potential to develop into a tropical cyclone at some stage next week. If this happens, it may increase the risk of severe weather in parts of northern Australia.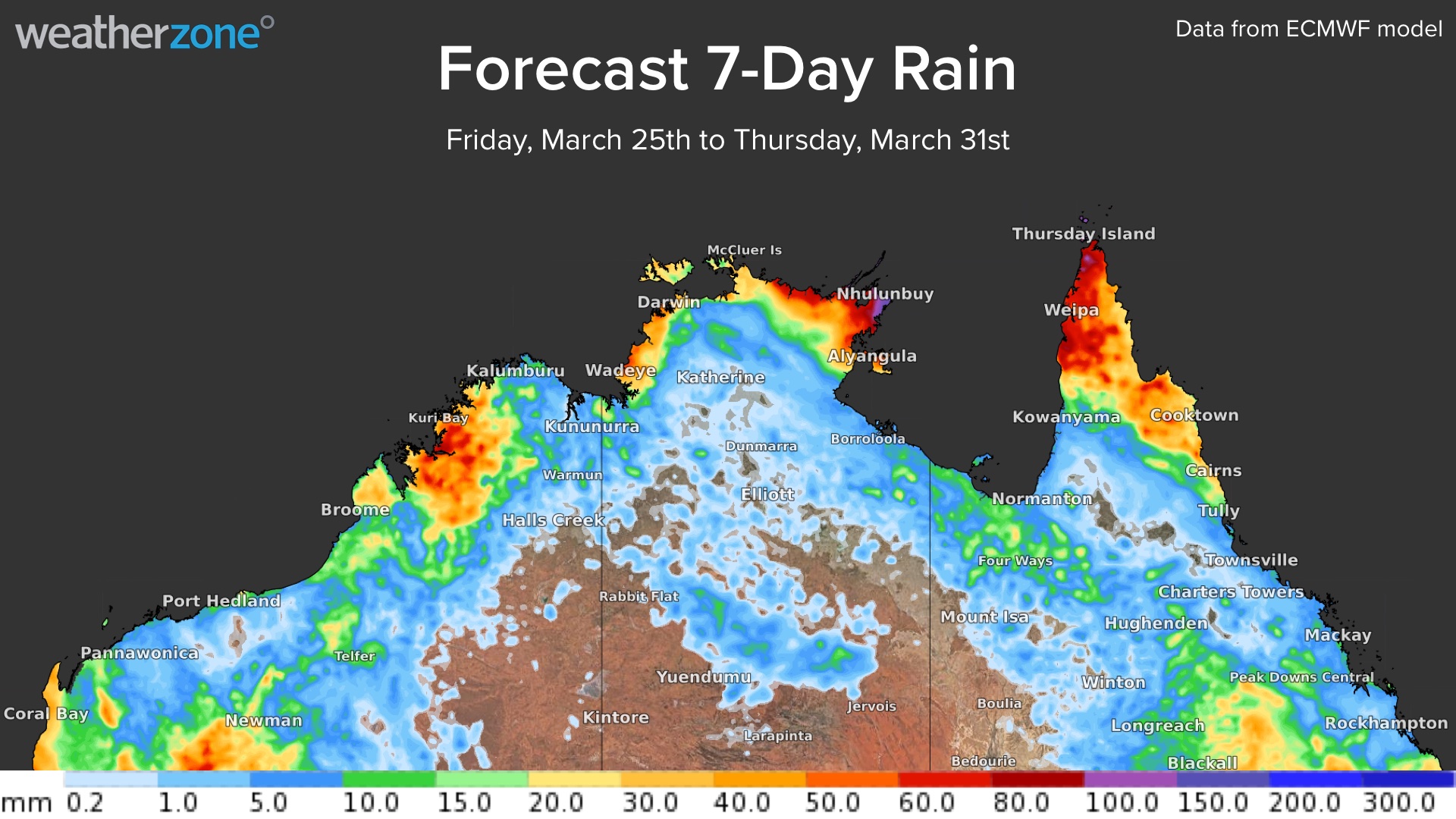 For more information on Weatherzone's cloud, rainfall, thunderstorm and tropical forecasting and risk analysis, please contact us at business@weatherzone.com.au