Parts of southeast QLD and northeast NSW are being hit with heavy rain, powerful winds and huge waves this morning as a low pressure system deepens off Australia's east coast.
The sequence of satellite and radar images below shows thick clouds and rain being driven over southeast QLD on Thursday night into Friday morning, as the low deepened offshore.
Some areas in the Sunshine Coast Hinterland, Gold Coast Hinterland and the Wide Bay and Burnett coast have already picked up more than 100 mm of rain from this system. This included 151 mm at Maleny and 145 mm at Poona Dam and the Town of 1770 during the 24 hours to 9am on Friday. This was the Town of 1770's wettest July day in records dating back to 1986.
The heavy rain from the last 24 hours caused areas of flash flooding and has prompted a warning for minor riverine flooding in the Stanley River to Somerset Dam and the Upper Brisbane River to Wivenhoe Dam.
The deepening low is also whipping up powerful winds and massive waves in southeast QLD and northeast NSW.
As of 11 am AEST, wind gusts had reached up to 98 km/h at Cape Moreton and Byron Bay and 89 km/h at Double Island Point on Friday morning.
Maximum wave heights exceeding eight metres were also recorded off the coast of Mooloolaba, Brisbane and Wide Bay on Friday morning. This included an 8.98 metre wave at Mooloolaba, which, if verified, will make this the 6th largest wave event recorded by this waverider buoy since it became operational in 2000, and its largest wave event on record for July.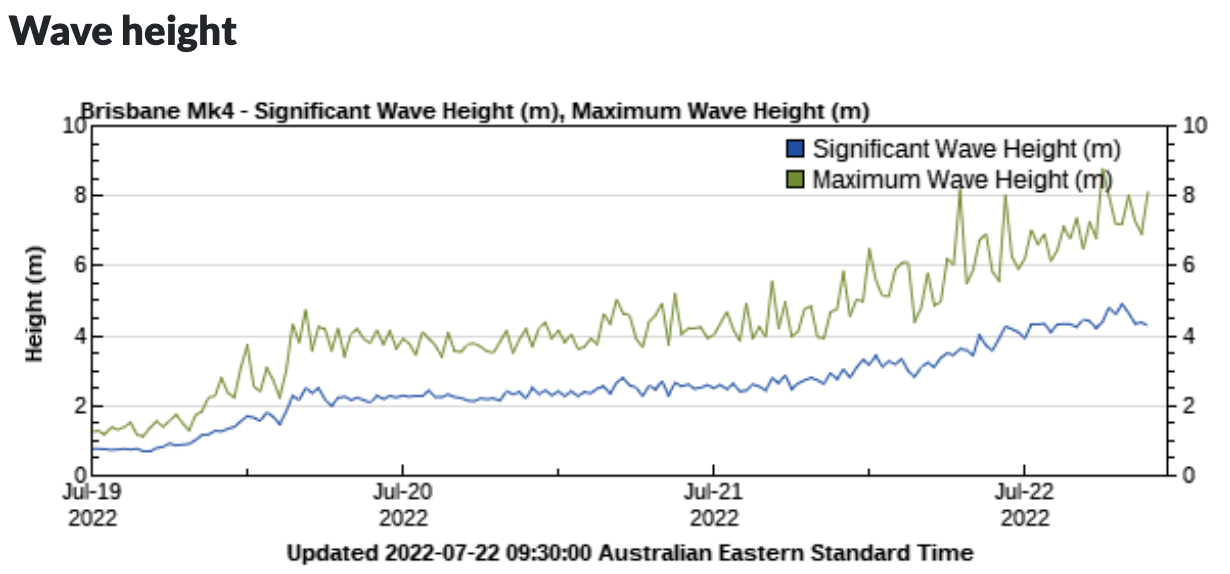 Image: Observed wave heights off the coast of Brisbane, showing maximum wave heights exceeding 8.5 metres on Friday morning. Source: Queensland Government
Rain, damaging winds and damaging surf will continue to lash southeast QLD and northeast NSW into Friday afternoon as the low pressure system lingers offshore.
Some forecast models suggest that wind could become even more intense during Friday afternoon and early evening if the low drifts closer to the coast. If this does happen, wind gusts could reach around 110 km/h along the exposed coasts in southeast QLD.
Fortunately, rain should start to clear during Friday afternoon and evening, while wind should ease from Saturday morning as the low moves offshore. Large swell will stick around on Friday and Saturday, before easing from Sunday. For more information on our heavy rainfall, wind and surf forecasting, please contact us at business@weatherzone.com.au.