Eastern Australia has been hit by widespread storms, heavy rain and strong winds across parts of QLD, NSW and eastern VIC on Wednesday. 
A low-pressure system and a broad inland trough in combination with an extremely humid airmass are behind the heavy rain and thunderstorms on the forecast each day until the weekend.  
The areas of concern over the next 3-4 days are southern QLD, eastern and northern NSW and eastern VIC. 
The multi-day event may cause record breaking rainfall totals and some areas could see 6-hourly rainfall totals exceeding 100mm, particularly in storms. Some locations may see the whole of November's rainfall during this event. 
The map below shows how much rain the ECMWF computer model is predicting during the next four days, between Wednesday and Saturday.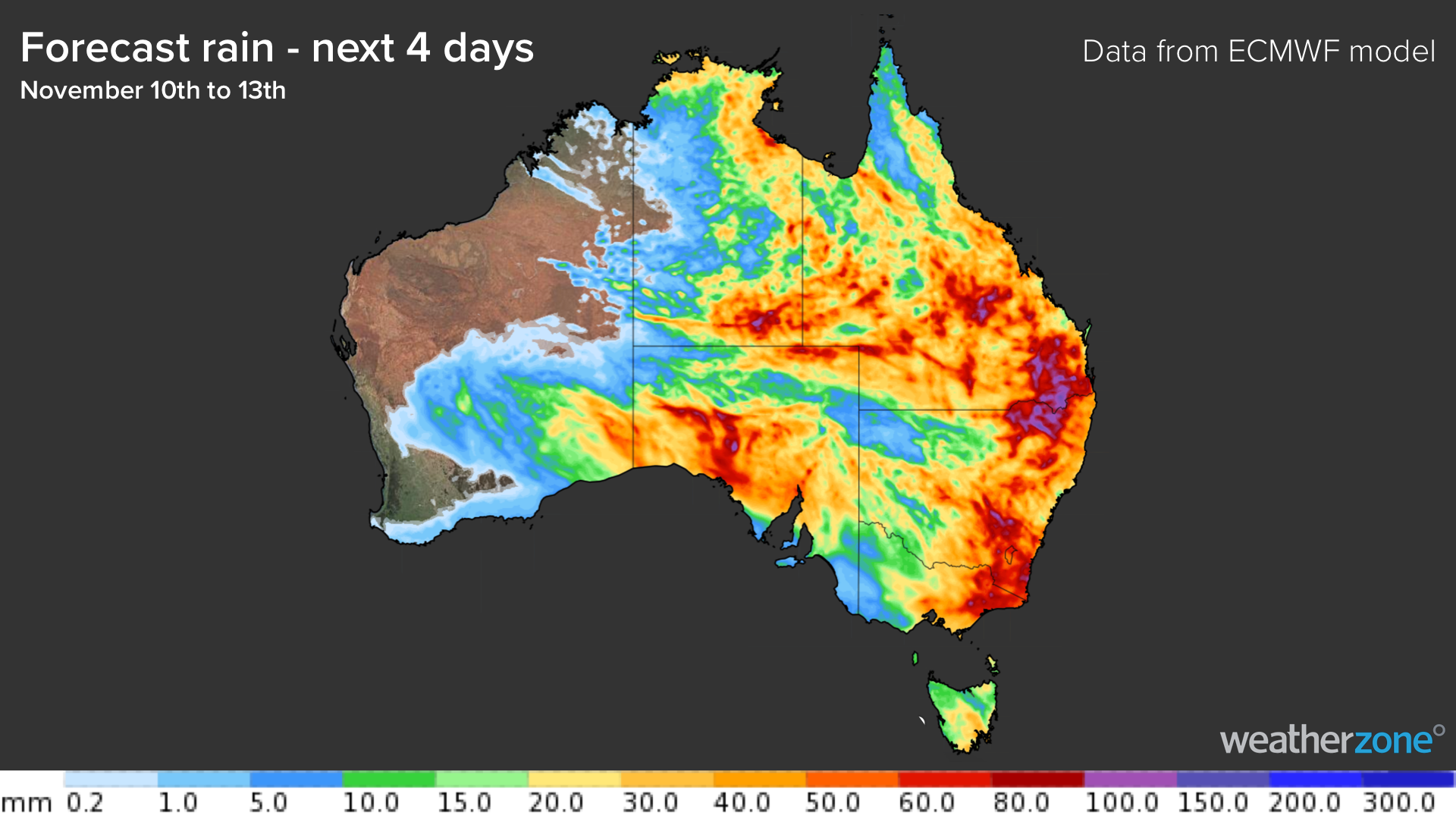 On Wednesday, thunderstorms are forecast to cover more than half of the continent, as the/ an unstable and humid area moves into central and eastern Australia.  
Severe thunderstorms are likely on Wednesday afternoon across northern NSW, the central NSW ranges and southern QLD, with heavy rainfall and damaging winds both possible.  
 A low-pressure system will move into the southeast on Thursday, triggering another bout of heavy rainfall and thunderstorms. Severe thunderstorms are again on the forecast for southern QLD, northern and central western NSW.  
On Friday the low will move into southern NSW, with the worst of the weather expected near the low. Winds are also forecast to increase on Friday and Saturday as the low nears NSW.  
Conditions are expected to ease on the weekend as the low-pressure system moves away into the Tasman Sea.  
How does Weatherzone alert our rail and transport clients of upcoming severe weather?  
The transport and rail sector are very much exposed to these severe weather events and storm outbreaks. 
Extreme heat and cold, lightning, strong winds, heavy rainfall, and flooding can all lead to operational delays, maintenance disruption and safety issues for the rail and transport industry. 
Weatherzone provides heat/cold temperature, thunderstorm, fog, and heavy rainfall alerts for every track section based on our clients' thresholds.  
Early Warning Systems, Dangerous storm alerts (DTA's) and post event analysis and summaries also help the rail industry to plan maintenance and manage manpower around severe weather events. 
For more information, please contact us at business@weatherzone.com.au.