Ground shaking was felt across a large area of southeastern Australia on Wednesday morning amid a series of earthquakes centered near Mansfield in eastern Victoria.
The largest of this morning's tremors was a magnitude-5.9 earthquake, which occurred shortly after 9am local time. Another magnitude-4 tremor was recorded near the same location just after 9:30am. Both earthquakes had a depth of 10 kilometres according to Geoscience Australia.
This morning's earthquake was felt across a large area in southeastern Australia, with Weatherzone's Facebook community sending reports in from several states.
Here are some of the locations where shaking has been reported so far:
Melbourne, VIC
Wangaratta, VIC
Bendigo, VIC
Neerim, VIC
Snake Vally, VIC
Wodonga, VIC
Narrandera, NSW
Culcairn, NSW
Lancefield, VIC
Shepparton, VIC
Mascot, NSW
Shoalhaven, NSW
Rosedale, VIC
Sunbury, VIC
Trundle, NSW
Learmonth, VIC
Kyabram, VIC
Launceston, TAS
Queanbeyan, NSW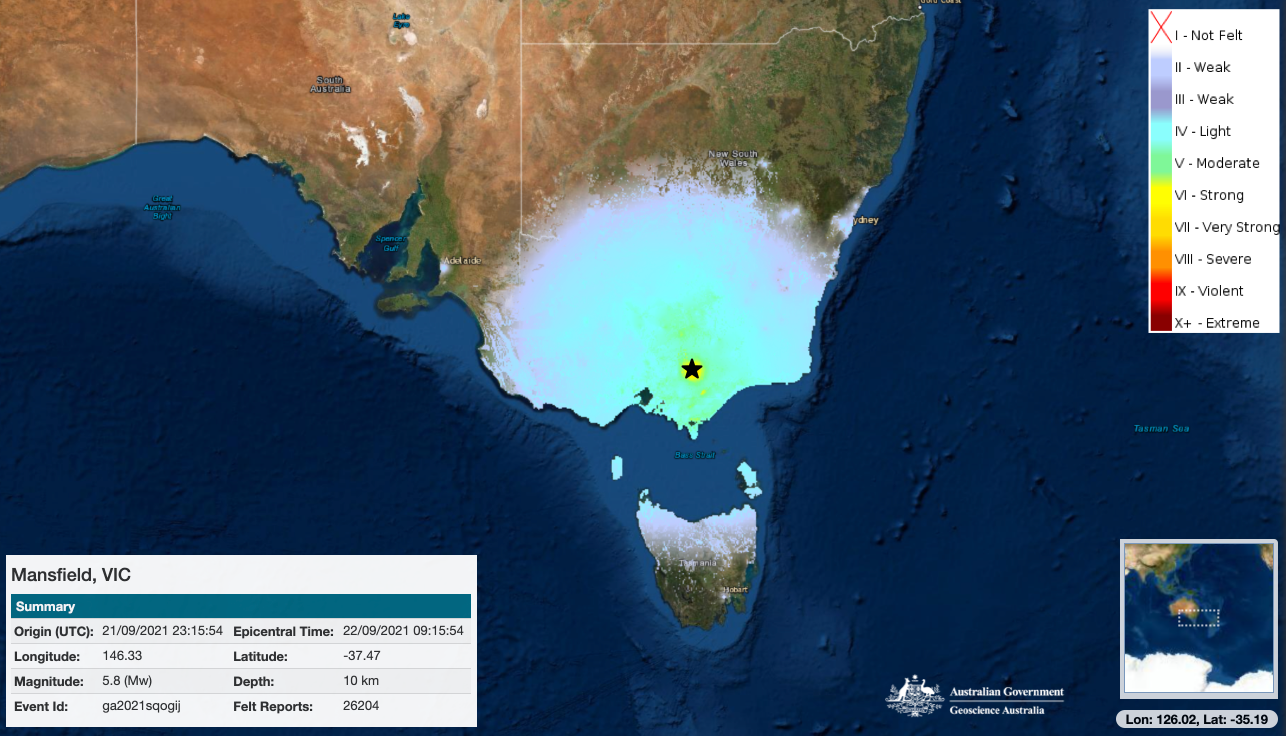 Image: Shakemap from Geoscience Australia, which combines information from "Felt Reports", submitted by the community through Geoscience Australia's earthquakes website, with telemetered seismic data, information about the regional geology, and models that estimate ground shaking for a given magnitude and distance from the earthquake. Source: Geoscience Australia
Richard Ross was standing at the bench making coffee in the Victorian ski village of Mt Buller, just half an hour up the road from Mansfield.
"I heard a real rumble and started to feel a shake," he told Weatherzone.
"At first I thought it was a big load of snow coming off the roof, but we only had a small fall of snow this weekend, so I realised pretty quickly it must be an earthquake. All the dishes started rattling, just shaking and rattling for maybe a minute. It was quite intense.
Then we felt a couple of aftershocks. No, not felt them. We actually heard them. It was like a plane roaring overhead."
That was interesting. No avalanches folks, we're fine and back skiing. #earthquake pic.twitter.com/0q9FMYNPQq

— Mt Buller (@mtbuller) September 22, 2021
Craig Wilkes was in an online meeting with his work colleagues when he felt his house in Queanbeyan, NSW, shaking.
"I knew what it was straight away. I've felt earthquakes in Japan before," Wilkes told Weatherzone.
"I could feel the walls moving and it went on for about 10 or 15 seconds. There was no noise at all, just movement, and I could distinctly feel the house moving from north to south."
With earthquakes this strong a rare occurrence in Victoria, many locals had no idea what was happening at first.
"The noise of the roof flexing was so loud I thought it was a gigantic possum at first," Darren, from Woodend in Victoria's Macedon Ranges, told Weatherzone.
"My kids, aged 8 and 6, were screaming. They didn't know why the house was moving. They think it's hilarious now, but they had a very good grip on their mum when the quake occurred."
According to Geoscience Australia, around 100 earthquakes of magnitude 3 or more occur in Australia each year. Earthquakes above magnitude 5.0 happen about every one-to-two years, while earthquakes of magnitude 6.0 or higher only happen about once every 10 years.