As rain finally eases over floodwaters in northern NSW and southeast Qld, the focus of this dangerous weather system now shifts to central and southern NSW.
The animation below shows the sun rising over eastern Australia on Tuesday morning. This composite satellite and radar animation shows that while there is still come cloud cover in northern NSW and southeast Qld, there is almost no rain falling this morning.
Video: Composite satellite and radar on Tuesday morning, showing clouds producing little rainfall over northeast NSW and southeast Qld.
Despite the drier weather, floodwaters are still flowing through many rivers and towns in northern NSW and southeast Qld, with major flood warnings and evacuation orders still in place for some areas.
FIND THE LATEST FLOOD WARNINGS HERE AND EVACUATION ORDERS HERE.
The focus of the severe weather now shifts further south. A low pressure system developing off the northern coast of NSW is expected to strengthen into an East Coast Low during the next 24-48 hours and move towards central NSW.
The animation below shows the predicted movement of this developing East Coast Low, and its associated rainfall, according to Australia's ACCESS-G forecast model.
Video: Forecast rain and mean sea level pressure, according to the ACCESS-G model.
Heavy rain, thunderstorms, damaging winds, abnormally high tides and damaging surf are likely to develop over parts of central and southern NSW as the East Coast Low moves further west in the coming days.
At this stage, heavy rain, storms and damaging winds are expected to affect the coast and adjacent ranges from about Newcastle down to Bega from Tuesday night into Wednesday and possibly Thursday. Damaging surf and abnormally high tides could also affect the coastal strip from the South Coast up to the lower Mid North Coast from Tuesday night into Wednesday. Severe weather warnings have been issued for these areas.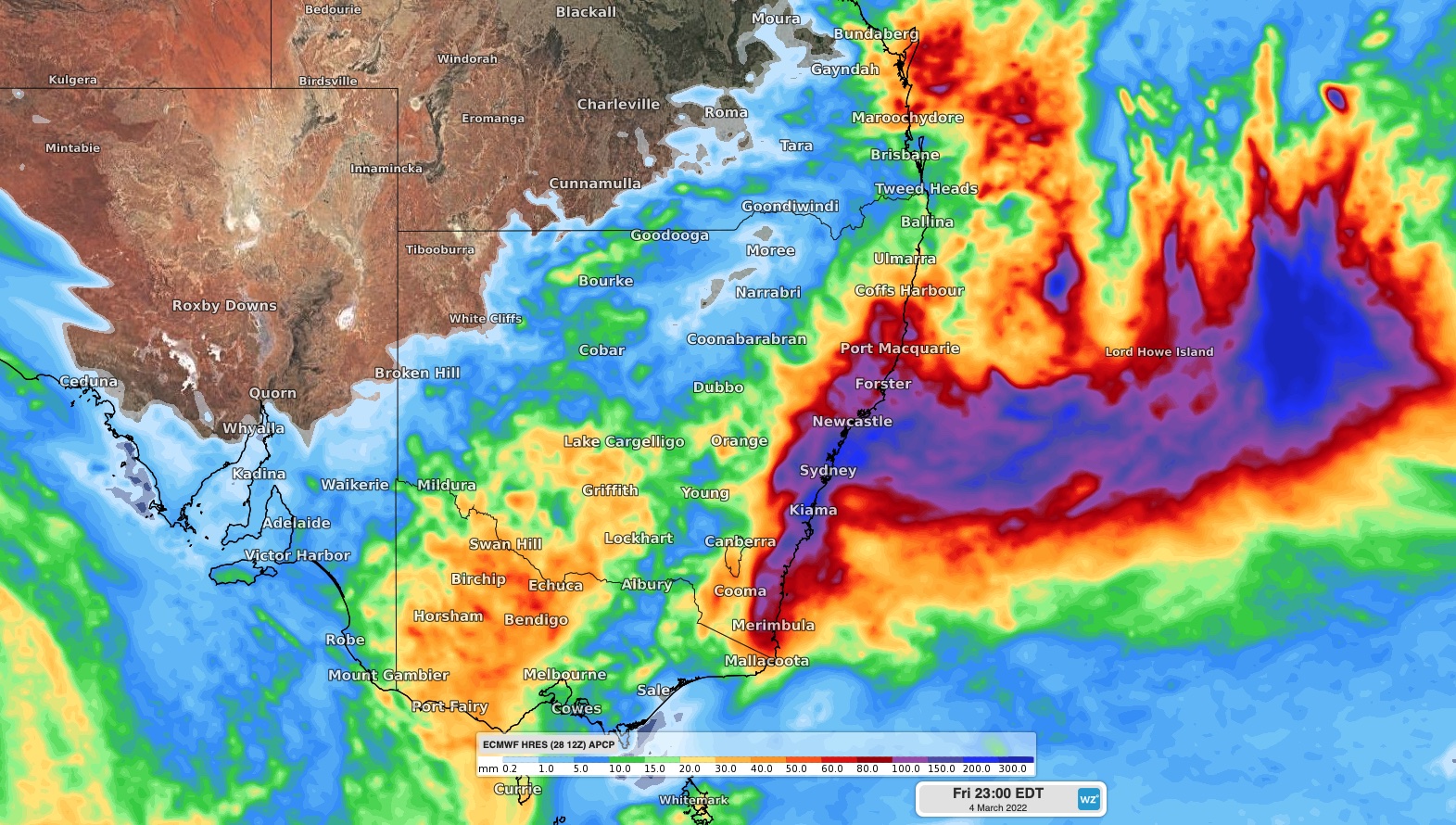 Image: Forecast accumulated rain between Tuesday and Friday, according to the ECMWF-HRES model.
However, exactly where this severe weather strikes over the next 48 hours will depend on the strength and location of the East Coast Low. If this system's forecast track changes, the areas covered by thede our clients with detailed rain, wind and thunderstorm forecasting for  severe weather warning may also change.
How can Weatherzone help your business?
Weatherzone's Operational Forecasts use sophisticated technology and algorithms to integrate your business procedures and requirements into the forecast. Unlike traditional methods, which require users to interpret complex meteorological information, Operational Forecast systems are fully aligned with your business and weather risk by presenting you with decision making tools.
This means that you do not need to be a meteorologist to understand the forecast, and crucially you know exactly how and when weather will affect your business, 24 hours per day, 365 days per year.
The Operational Forecasts utilise the OpticastTM high-precision forecast system, high resolution ocean models, and a variety of other systems to make the most complex situation easy to understand.
The systems can be modified for any location, process and weather/ocean parameters required. With rapid updates, site specific resolution and multiple delivery methods through interfaces, email and SMS, you will always have the peace of mind that Weatherzone's Operational Forecast system is monitoring your risk and will proactively notify you of any weather that affects your business. For more information, please contact us at business@weatherzone.com.au.