Residents of dozens of suburbs in Sydney's greater west have been told to evacuate as three major rivers burst their banks in what emergency services are describing as a "life-threatening" flood emergency.
The heaviest rain has eased off to a degree on Monday morning in Sydney, however rain is still steadily falling in and around the metropolitan area, with 71 evacuation orders and 64 evacuation warnings in place at 10 am, affecting over 32,000 people in NSW.
#LIVE: Premier Dominic Perrottet, Deputy Premier Paul Toole and Minister for Emergency Services and Resilience and Minister for Flood Recovery Steph Cooke will provide a weather and flood update.#9News https://t.co/FKvUOaolF6

— 9News Sydney (@9NewsSyd) July 4, 2022
"If there's an evacuation order in place, please leave immediately," NSW Premier Dominic Perrottet urged residents on Monday morning.
The Premier said there had been well over 100 flood rescues in and around Sydney since Sunday, and added, "Please, do not drive through floodwaters."
PLEASE CHECK THE LATEST EVACUATION WARNINGS AND ORDERS HERE AT THE NSW SES SITE
The Bureau of Meteorology advises that while rain rates have generally eased, six hour rainfall rates of 60-100 mm are still possible today. Heavy rainfall which may lead to flash flooding could occur today in the Illawarra, Blue Mountains, Sydney Metropolitan, and parts of Hunter (including Central Coast) districts.
That means that the flood situation will likely not ease any time today for residents of flood-affected suburbs.
A severe weather warning for very heavy surf is also in place, with localised damage and coastal erosion on the Sydney and Illawarra coastline expected to continue today before starting to ease during the afternoon.
What's the current weather situation?
The East Coast Low has now weakened into a trough over the Hunter District, however an onshore flow south of the trough is still directing humid air onshore, causing moderate to at times heavy rainfall in areas near and to the south of the trough.
The BoM advises that drier air should push gradually northwards up the NSW coast through the afternoon, clearing most of the rain out of the Illawarra, Blue Mountains and Sydney regions by late this evening.
So while the weather is likely to ease, the situation on Monday morning is still extremely dangerous.
READ MORE: Warragamba Dam spilling as East Coast Low inundates eastern NSW
How much rain has fallen?
Sydney has already exceeded its July average of 96.3 mm, with a monthly total of 148.6 mm recorded to 9 am Monday at Observatory Hill.
Camden, in the city's outer southwest, has received 197.4 mm for the month to date as of 9 am Monday. The area is currently experiencing moderate flooding from the Nepean River.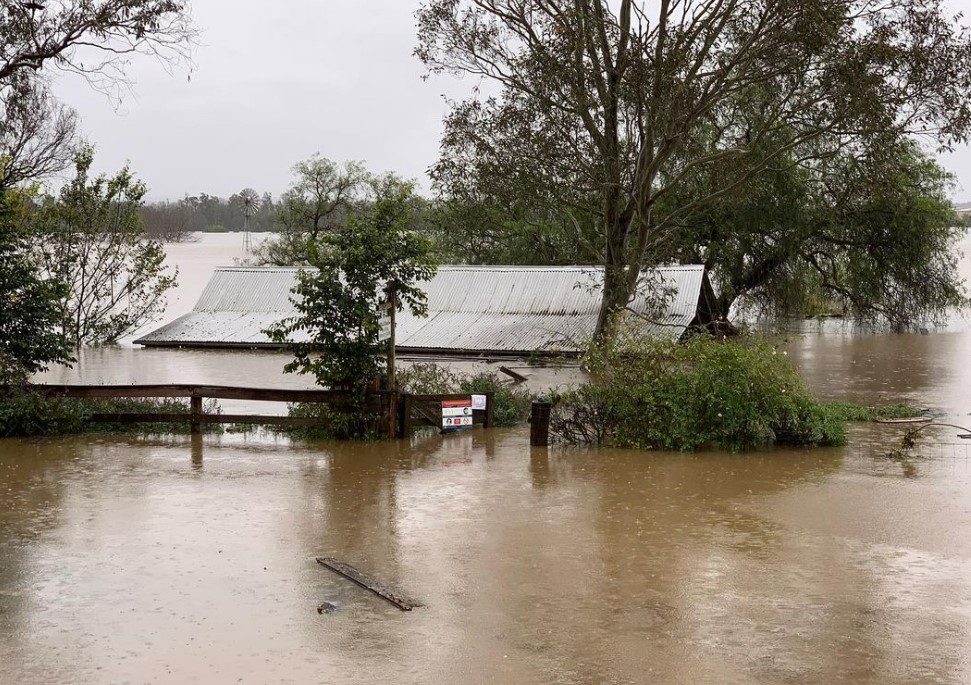 Image: A property in Camden, NSW. Source: @grown_in_camden on Instagram.
While the totals in Sydney city and its suburbs are extremely high, as we reported yesterday some phenomenal rainfall totals have been recorded just south of the city, especially in parts of Wollongong and the Illawarra region which serve as catchment areas for the Sydney basin.
For example, a weather station at the rural locality of Brogers Creek, just north of the town of Berry, saw a deluge of 595mm in 48 hours over the weekend.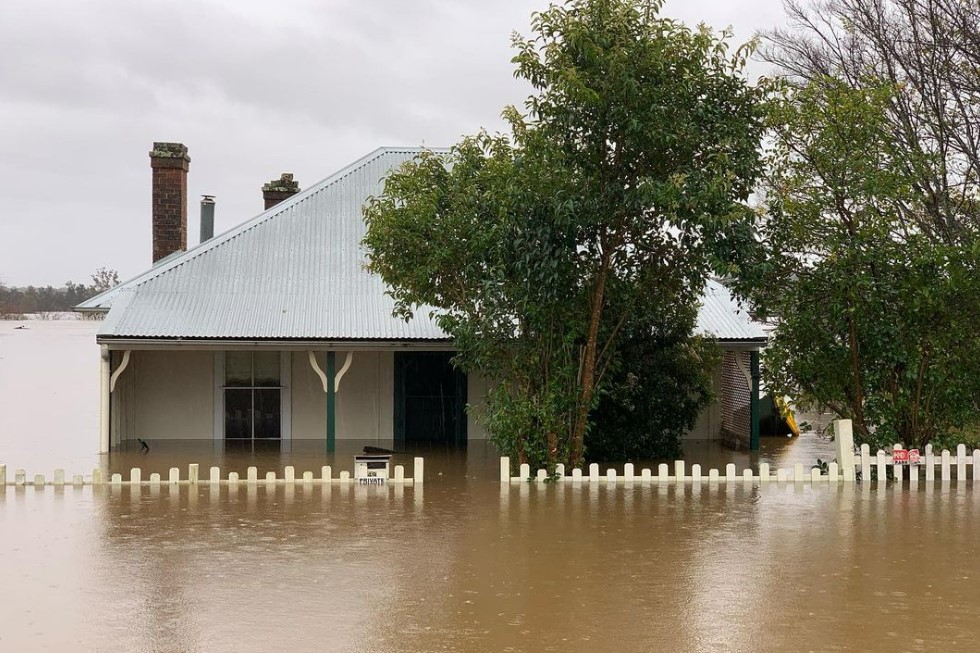 Image: Camden has now flooded four times in 18 months, NSW. Source: @grown_in_camden on Instagram.
Some of the extremely heavy falls just north or south of Sydney in the period from 9 am Sunday to 4 am Monday included:
Maitland 160 mm
Mangrove Mountain 155 mm
Wyong 140 mm
Appin 130 mm
Those were among the heaviest falls yesterday and overnight, after the heaviest rain in this ongoing deluge fell during Saturday and into early Sunday morning, including:
Wattamolla 318 mm
Darkes Forest 298 mm
Woronora Dam 270 mm
Fitzroy Falls Dam 265 mm
Robertson 258 mm
As mentioned, heavy rain can be expected in at least some of these areas for the next 12-24 hours, until conditions slowly ease into midweek, as the low drifts southeast into the Tasman Sea towards New Zealand.
But for now, we urge you to keep checking our warnings page here. Rising flood waters have also impacted roads and transport routes across parts of NSW during this event. Weatherzone provides weather monitoring and alerting tools that all transport operators to gain improved situational awareness and operational forecasts to understand the risks to operations days ahead. For more information, please contact us at business@weatherzone.com.au.