A hot air mass building over Australia this week will set the stage for a quintessentially hot and sweaty Christmas in some parts of the country.
While large areas of Australia were kept unusually cool during November by frequent spells of cloud and rain, December has been noticeably clearer and drier for much of the country.
As a result of these clearer skies, hot air has been building across the Red Centre this week, with temperatures in the coming days likely to hit the low-forties in central Australia and near 50ºC over the far northwest.
This large pool of inland heat will also spread towards Australia's southern and eastern states at times during the next fortnight, bringing busts of warm holiday weather to several capital cities.
This week, Adelaide is forecast to hit 30ºC on Thursday and 37ºC on Friday. As this stifling heat lingers into Friday night, the mercury is expected to still be around 30ºC at midnight before a cool change arrives early on Saturday morning.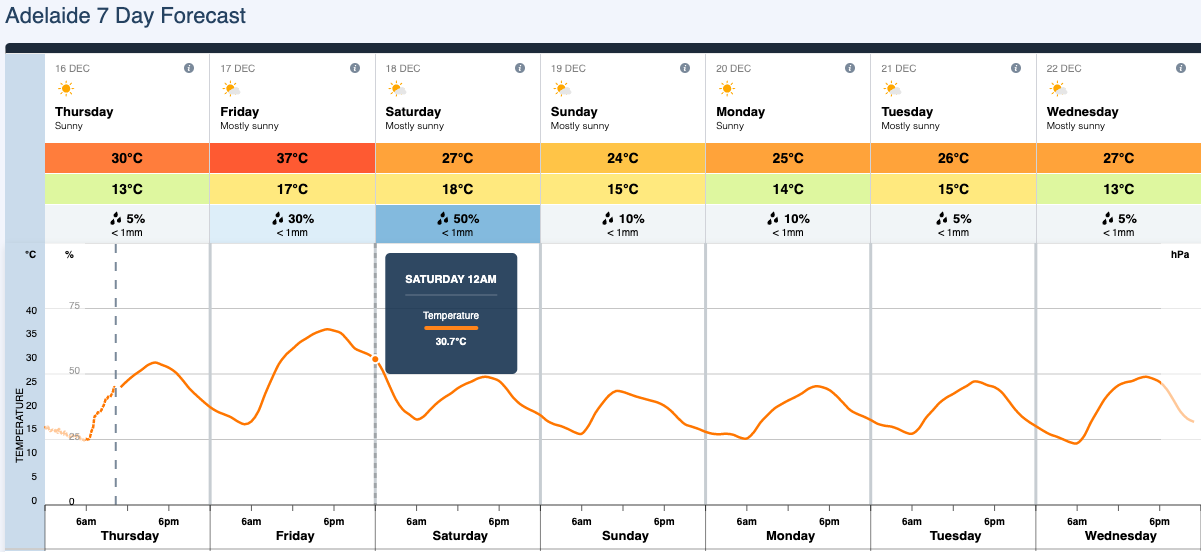 Image: Adelaide's weekly forecast graph showing a predicted temperature of just over 30ºC at midnight on Friday night.
Melbourne, Sydney, Canberra and Hobart will all get a taste of the warmth as well, with each city forecast to reach the low thirties on at least one day between Friday and Sunday.
Looking ahead, the hot air will retreat inland at the start of next week before making another pass over southern Australia in the leadup to Christmas.
Northeasterly winds will drag warm inland air towards Perth on Monday, December 20, pushing temperatures to the low thirties by the early afternoon.
Temperatures will gradually climb in Adelaide throughout the week and the heat spreads further east, with temperatures reaching the high-twenties from Wednesday and low-thirties by Friday. On Christmas Day, Adelaide could see the mercury hitting 36 to 37ºC, which would make it the city's hottest Christmas in three years and one of its five hottest Christmas Days in the last 35 years.
Image: Forecast afternoon temperature and 24-hour accumulated rainfall on Christmas Day.
Victoria is also shaping up to be warm on Christmas Day, possibly reaching the low-thirties in Melbourne and the high-thirties in the state's northwest.
Australia's eastern capital cities look like they will escape a hot Christmas this year, with onshore winds likely to limit daytime heating and increase the likelihood of showers.
At this stage, Hobart will most likely be dry and reach the mid-twenties on Christmas Day, while Darwin has a chance of rain and thunderstorms. Weatherzone provides our clients with 14-day temperature and energy forecasts, for more information, please contact us at business@weatherzone.com.au.