Melbourne and other parts of Victoria just endured their coldest morning since 2018, with more than half of the state registering temperatures below zero degrees.
A high pressure system passing over southeastern Australia on Tuesday night, in the wake of a cold front, caused a wintry combination of cold air, clear skies and light winds. These conditions created the perfect environment for efficient overnight radiative cooling, which caused the mercury to plummet.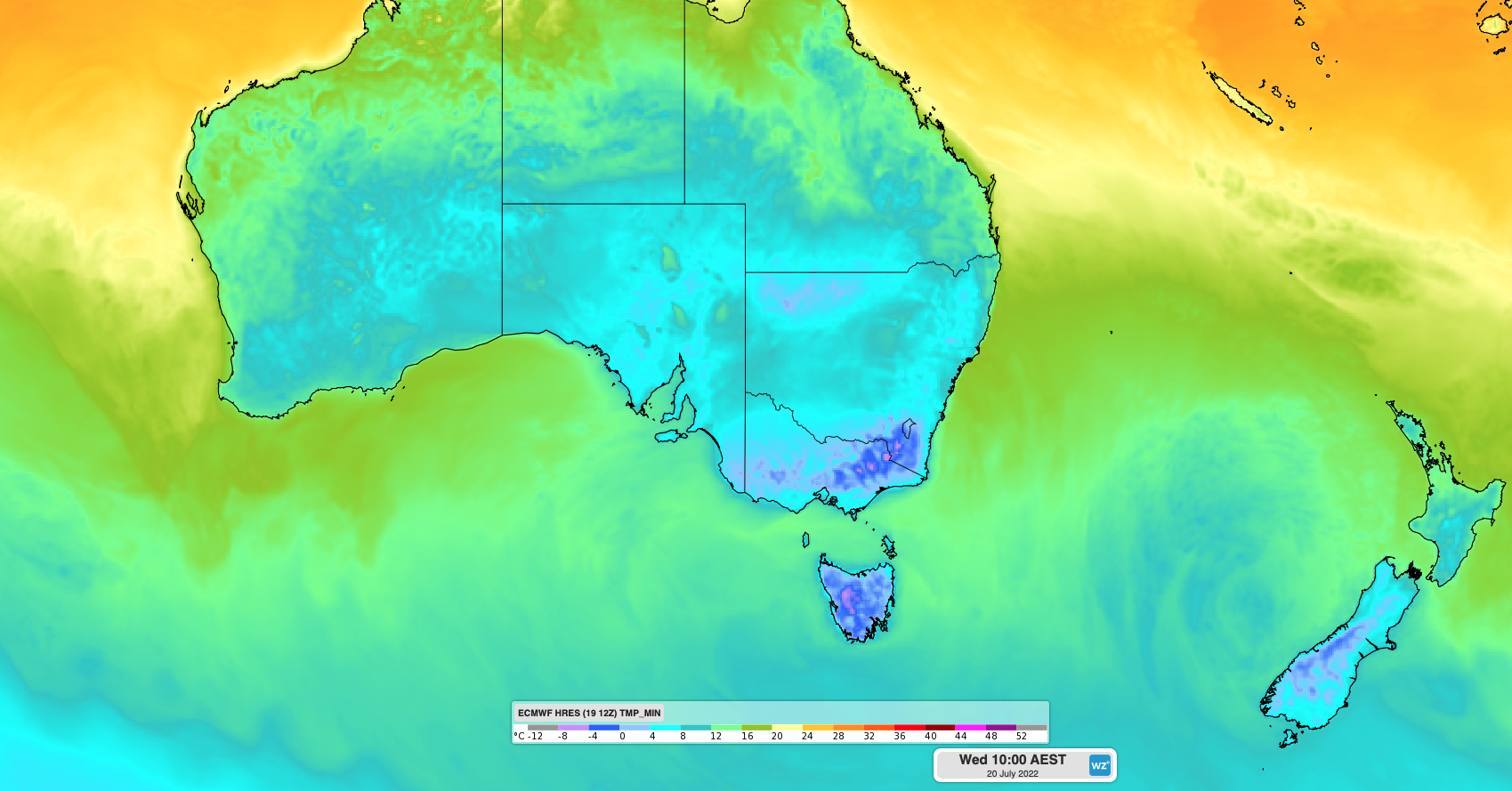 Image: Modelled minimum air temperature on Wednesday morning.
In Victoria, 41 of the state's 79 weather stations registered temperatures below zero degrees on Wednesday morning. The lowest in the state was -7.4ºC at Mt Hotham.
Closer to Melbourne, Coldstream hit a teeth-chattering -3.8ºC and the airport at Tullamarine dropped to -1.5ºC. The city itself reached a low of 0.8ºC shortly before 8am. These were all the lowest temperatures since 2018.
Parts of southern NSW also copped a taste of this morning's wintry chill. Perisher Valley in the Snowy Mountains reached -11.7ºC, which was the lowest temperature anywhere in Australia for two years. Thredbo Top Station, the country's highest weather station, also had its coldest morning in four years, dipping to -10.6ºC.
Tasmania also shivered through another cold start this morning, with Liawenee reaching -9.1ºC and Launceston Airport -4.0ºC. This was Launceston's lowest temperature since 2019.
Temperatures on Thursday morning will once again be cold enough for widespread frost across southeastern Australia. However, most places will be slightly warmer than they were this morning and overnight temperatures will continue to climb later in the week. For more information, please contact us at business@weatherzone.com.au.