It's here. The wild, wintry weather system that has been looming on the charts for the best part of a week has well and truly arrived in South Australia, and is also currently barreling its way through large parts of Victoria and New South Wales.
Strong winds, cold temperatures, heavy rain and snow are all part of the package with this weather system, and numerous warnings are in place.
Let's briefly break the current situation down on a state-by-state basis:
South Australia
As we write this story around 11 am on Monday (AEST), a significant band of rain is making its way north from Adelaide towards the state's Flinders, Mid North, and Riverland forecast districts.
Adelaide received a long overdue soaking of 35 mm overnight, the heaviest 24-hour rainfall of the year. Some areas around the state capital received in excess of 60 mm, and heavy rain continues this morning north of the city.
Strong winds are being experienced across the state, with gusts topping 90 km/h in at least two locations early this morning. Numerous wind warnings remain in place, so please check our SA page here.
Victoria
Western Victoria saw falls of around 5-10 mm of rain overnight at many locations and the rain is progressing steadily east, with a band of heavy rain impacting Melbourne as we write this story.
The first snow of what is expected to be two-to-three days of blizzard-like conditions is now coating the Victorian Alps, and is currently sweeping over the mountains in a northerly wind flow.
That might seem a strange wind direction for a snow-laden system, but it's actually not unusual for a band of pre-frontal precipitation as winds circulate clockwise around the low pressure system which is currently centred over the state's far southwest.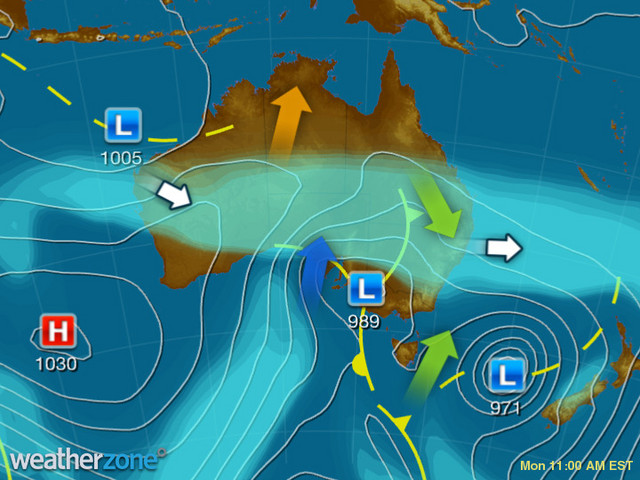 While temps over the Alps are currently in the marginal range for snow, the snow level will drop throughout the day as colder air pushes east.
Indeed, you can see that colder air has just reached the state's west, as evidenced by the gauge on Mt William in The Grampians (which we wrote about recently), where temps just dropped from 2°C to 1.6°C between 9:30 am and 10:30 am.
Conditions will be cold across the state today, but colder tomorrow and Wednesday. Maximum temperatures will reach only 11°C or 12°C in Melbourne over the next three days, and just single digits across a wide area, with negative maximums up at the ski resorts.
A severe weather warning for damaging winds extends across parts of Victoria, so please check our Victorian warnings page here.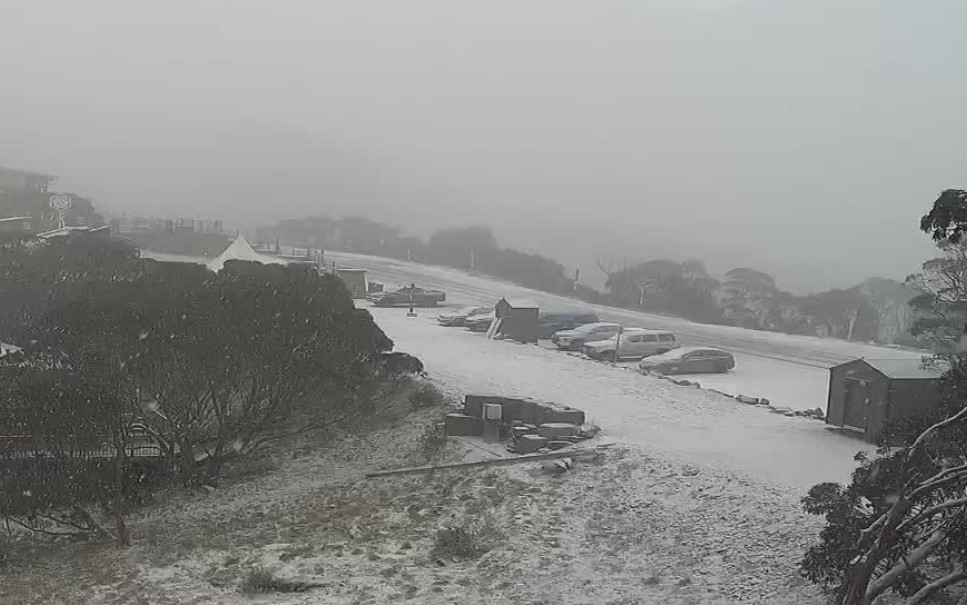 Image: This snow cam image at Mt Hotham in Victoria was from barely a few minutes after extremely heavy snow started falling this morning. Much more is expected today and in coming days. Source: Mthotham.com.au.
New South Wales
Significant rain totals have already been recorded overnight in the state's Riverina and Lower Western forecast districts, and rain is now falling steadily on the South West Slopes, Central West Slopes and Plains, and Southern Tablelands, with snow also imminent on the Snowy Mountains.
This is a large-scale weather system, and light showers are even being pushed towards Sydney this morning,. While no more than a few millimetres of rain is expected in Sydney today or indeed for much of this week, cold winds will still give the city a wintry feel.
For more information on Weatherzone's energy forecasts which include wind power, temperature, rain and snow forecasting, please contact us at business@weatherzone.com.au.