Parts of Queensland and NSW could be hit with heavy rain later this week, raising the risk of more flooding in already saturated river catchments.
A slow-moving upper-level trough interacting with moisture-laden air will allow rain and storms to develop over eastern Australia from Wednesday or Thursday this week.
This wet weather pattern has the potential to linger through the weekend and into the start of next week, potentially fuelling a multi-day rain event over parts of Queensland and NSW.
It is too early to know exactly how this dynamic weather event will unfold, which means it is not yet possible to predict where and how much rain will fall. The maps below show this uncertainty by comparing forecast rainfall during the next nine days from three different computer models.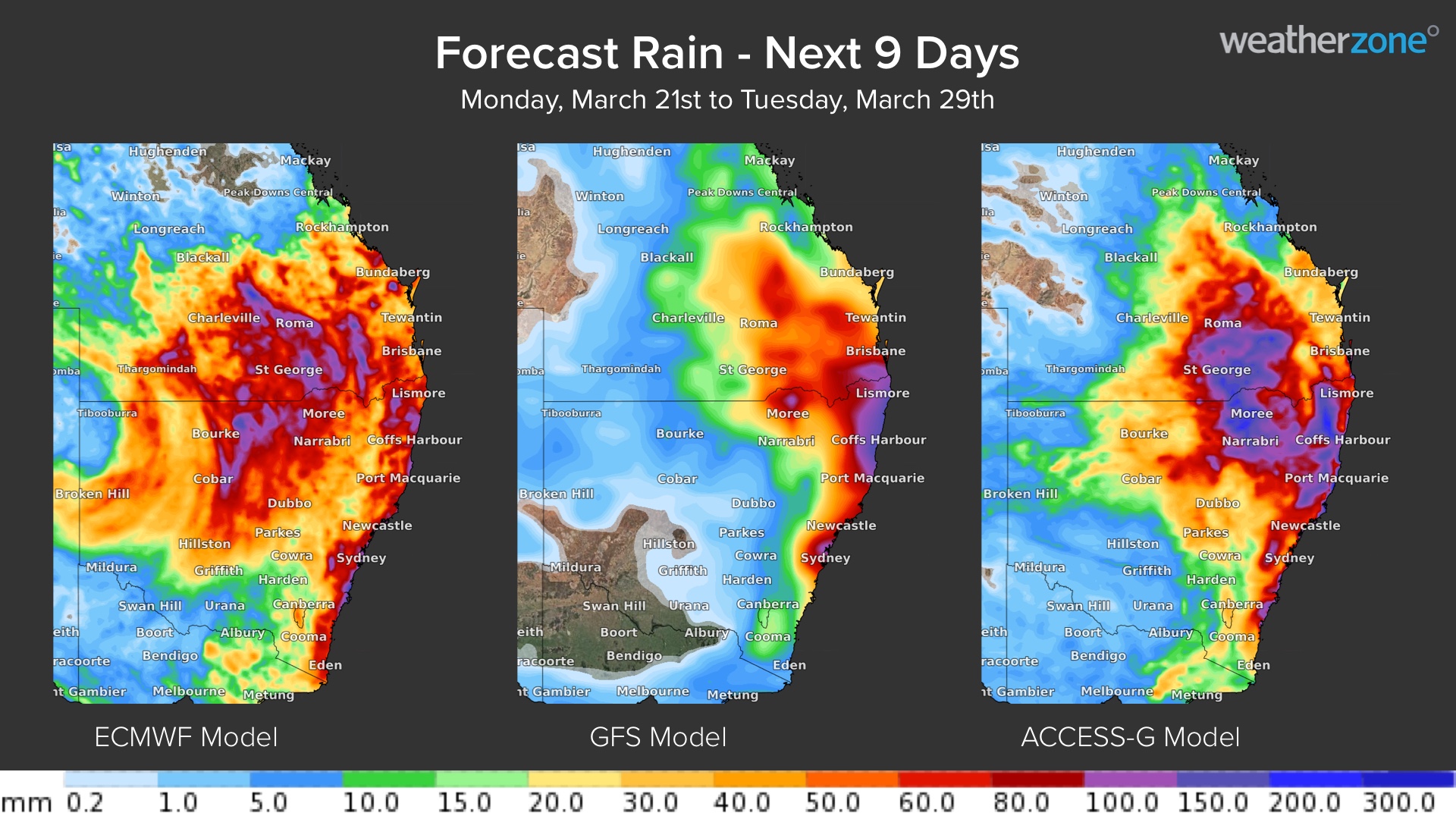 Image: Forecast accumulated rain during the next nine days according to the ECMWF-HRES (left), GFS (centre) and ACCESS-G (right) models.
While there are some similarities between the three maps above, there is notable disagreement in terms of how much rain will fall and where the heaviest rain will land.
Broadly speaking, anywhere from central Queensland down to southeast NSW could be affected by heavy rain between the middle of this week and the middle of next week.
Any rain that falls on or east of the Great Dividing Range in NSW or southeast Queensland will be hitting already saturated soil, increasing the likelihood of flooding.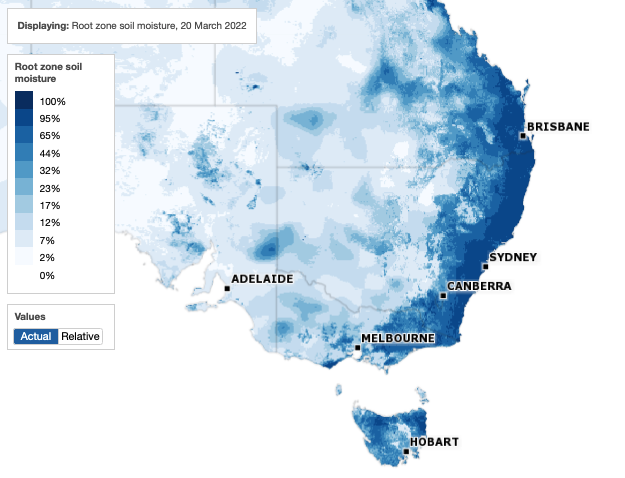 Image: Root zone soil moisture on March 20, 2022. The root zone is defined as the top 1 metre of the soil profile. Source: Bureau of Meteorology.
More reliable forecasts will become available as the week unfolds. Businesses between central Queensland and southern NSW should keep an eye on the latest forecasts and warnings for more up-to-date information.
How can Weatherzone help? 
Weather affects the insurance business at all levels of operation, from risk assessment to sales and claim management. For this reason, a sound understanding of short and long term weather risks is an essential component of any insurance business.
Weatherzone offers a large range of geo-tagged weather and lightning information, so that you can keep your customers informed, whilst staying one step ahead of severe weather.
Accurate long-term forecasts for rainfall, temperature and tropical cyclones help you better manage risk for the seasons ahead, especially when La Nina or El Nino outlooks scream fire or flood. Geo-tagged severe weather alerts and real time lightning alerts to a street level can keep your customers better informed to minimise losses, whilst embargoes on new policies can be set before severe weather strikes. For more information, please contact us at business@weatherzone.com.au.