A pair of cold fronts will cause two bouts of cold, wet and windy weather in WA over the coming week, with severe weather possible in the state's west and southwest.
The first in the pair of cold fronts will cause showers, cold air and blustery winds to spread across western, central and southern districts of WA on Friday and Saturday. The moisture feeding this system is drifting towards the state from an out-of-season Tropical Low located to the west of the Cocos (Keeling) Islands, around 2500 km away from WA.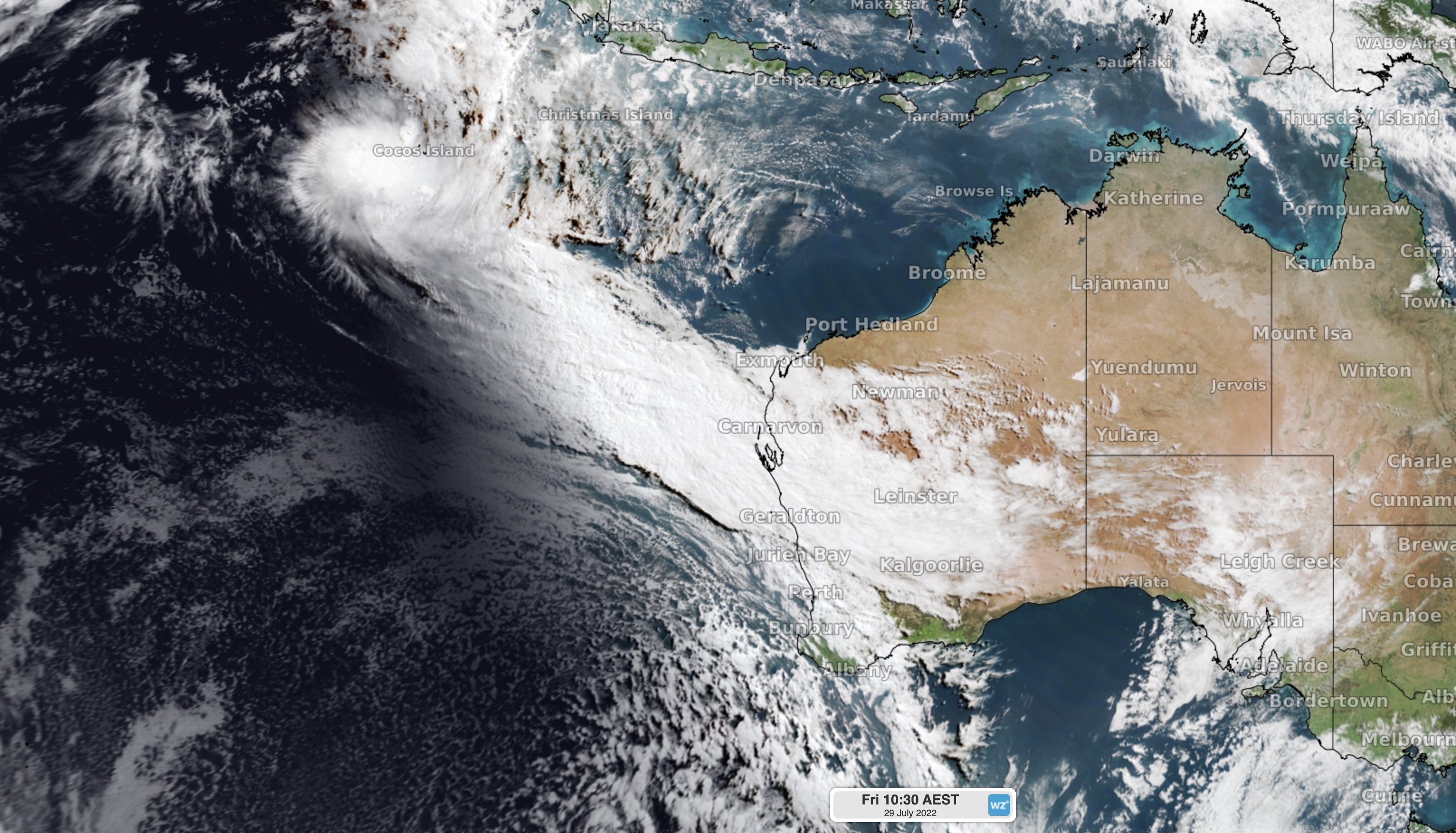 Image: Visible satellite image from Friday morning showing a cloudband drifting towards WA from the Tropical Low located near the Cocos (Keeling) Islands.
A brief spell of drier weather will return to WA on Sunday as a high pressure system drifts over the state. However, the next front and an associated low pressure system will bring another round of rain, blustery winds and cold air during the first half of next week.
This second front will be a strong system and is likely to arrive on the west cost of WA on Monday, causing a burst of heavy rain and strong, potentially damaging winds, as well as a few thunderstorms.
Rain will spread across a large area of WA on Monday and Tuesday as the front moves further east. In the front's wake, a powerful and slow-moving low pressure system will maintain showers and cold, squally winds across the state's southwest between Monday and Wednesday.
Warnings for heavy rain, damaging winds and dangerous surf are expected to be issued in western and/or southwestern districts of WA early next week.
In addition to the rain and wind, temperatures are likely to plummet as cold air spreads across the southwest of WA on Tuesday and Wednesday, with wind chill exacerbating this blast of wintry weather.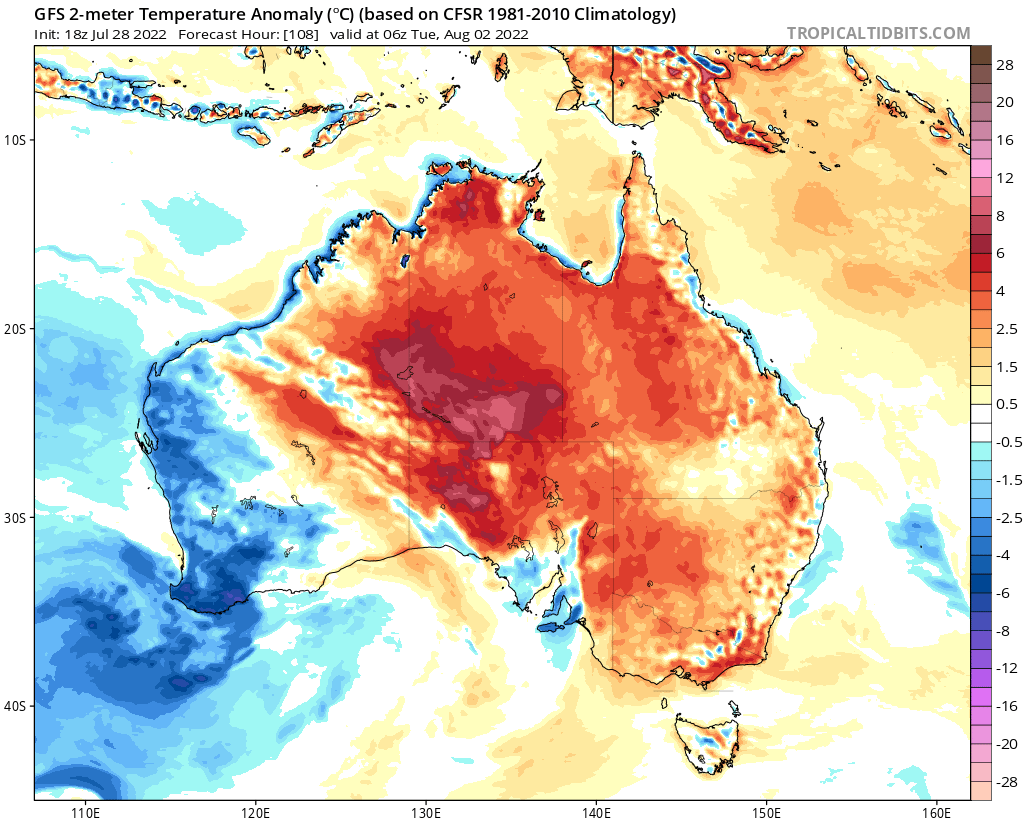 Image: Forecast surface air temperature anomalies over Australia on Tuesday afternoon (August 2), according to the GFS model. Source: tropicaltidbits.com
Perth's daytime maximum temperature is only forecast to reach 15ºC on Tuesday, although it will fell several degrees colder for most of the day.
The combined rainfall from these two cold fronts could see some areas of southwestern Australia picking up more than 100 mm of rain between now and the middle of next week.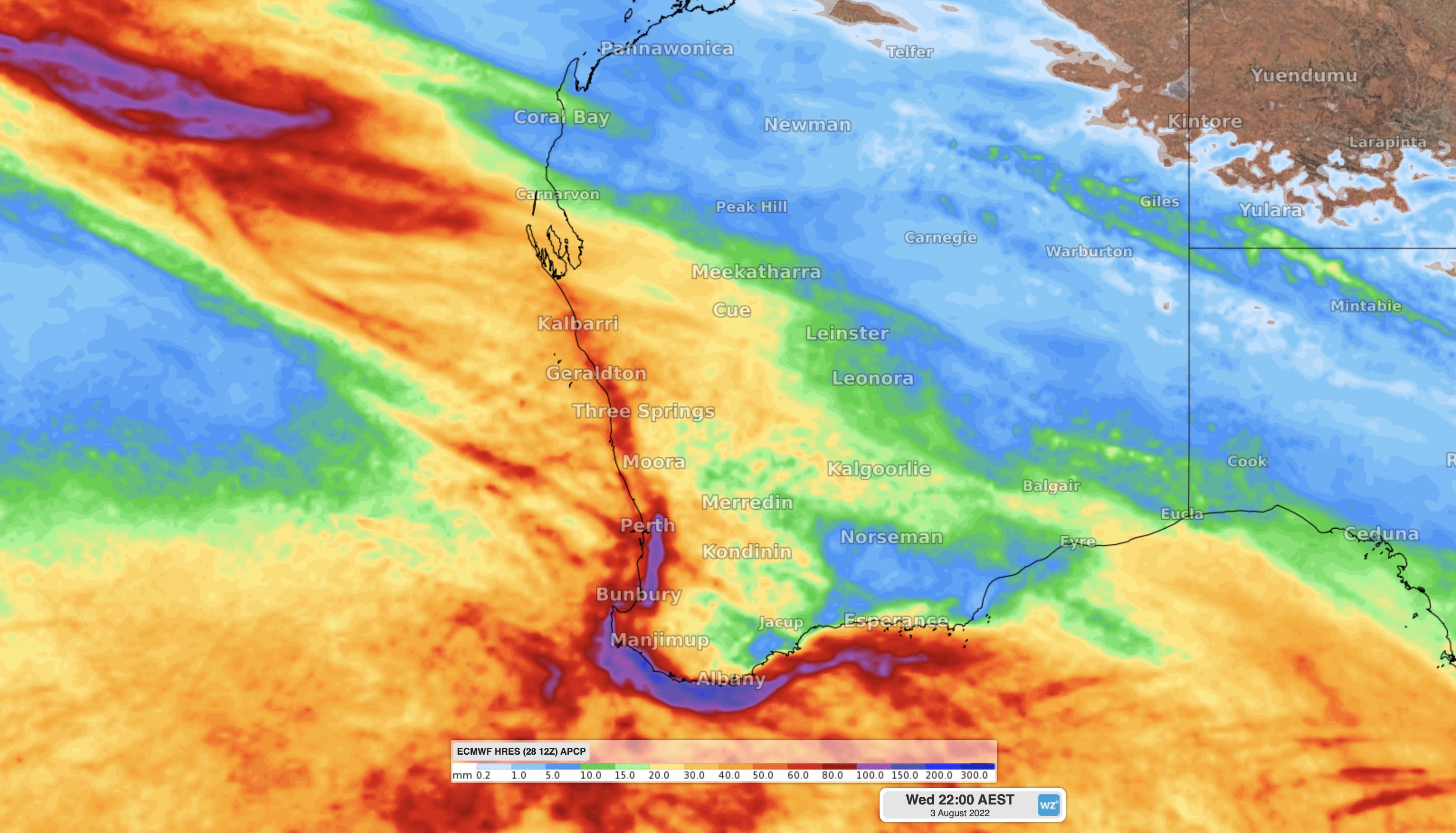 Image: Forecast accumulated rain between Friday, July 29, and Wednesday, August 3, according to the ECMWF-HRES model.
For more information on our outlooks, please contact us at business@weatherzone.com.au