A dynamic cut-off low pressure system will produce a dangerous mix of severe thunderstorms, heavy rain, hail and snow over parts of southern and eastern Australia during the next four days.
The low can be seen spinning above the Great Australia Bight in the sequence of satellite images below, which was captured by the Himawari-8 Satellite on Wednesday morning.
As this low moves further north, it will interact with warmer, moisture-laden air sitting above Australia, resulting in four days of showers, blustery winds and potentially severe thunderstorms between today and Saturday.
Wednesday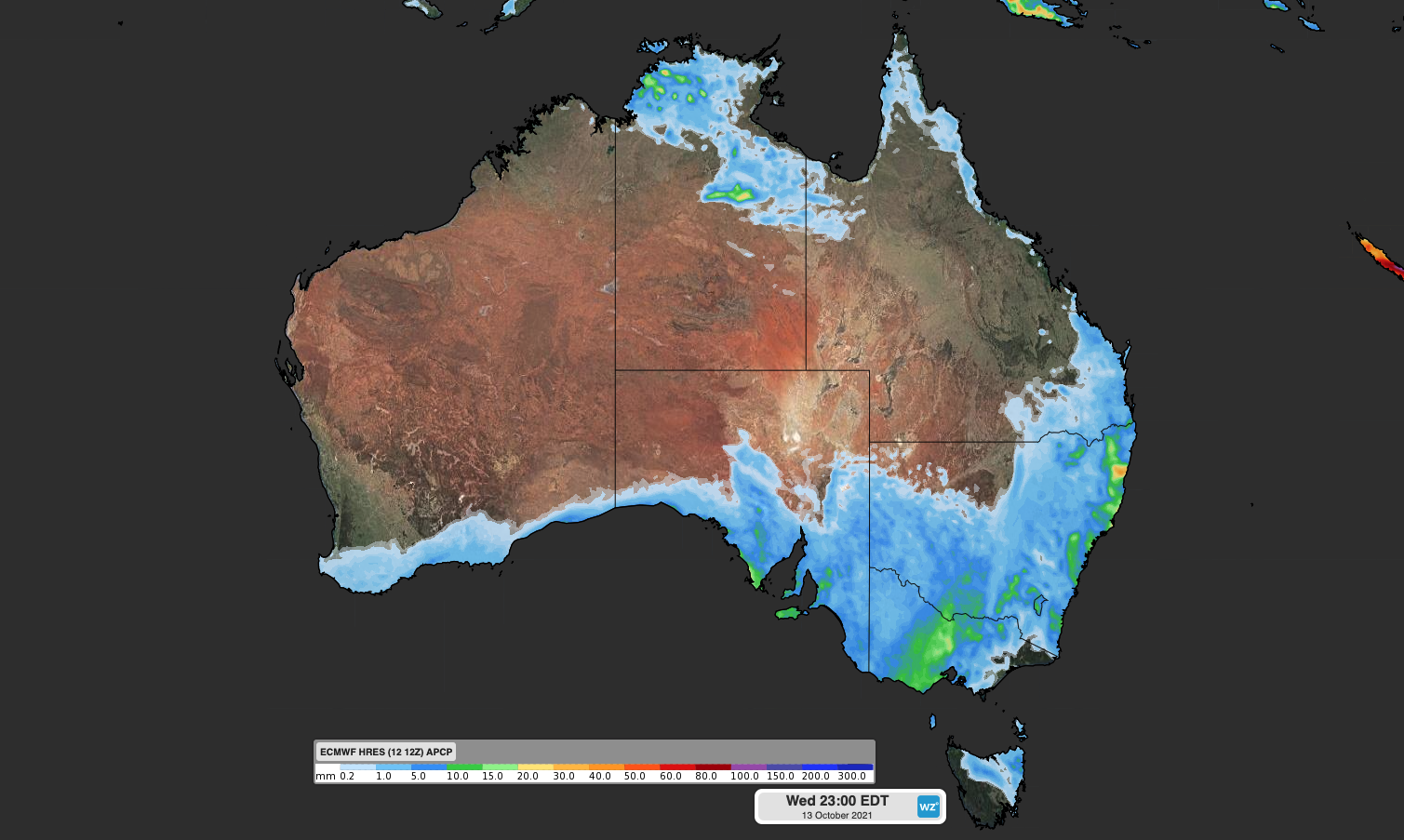 Image: Forecast accumulated rain on Wednesday, October 13, according to the ECMWF-HRES model.
On Wednesday, a cold front preceding the low pressure system will cause rain and thunderstorms to spread across parts of SA, VIC and western NSW. A separate low pressure trough, located ahead of the approaching front, will also trigger showers and storms in northern NSW and southern QLD.
Some of Wednesday's thunderstorms could become severe, most likely in VIC, NSW and southern QLD. A severe weather warning for heavy rainfall has also been issued in central and northern Victoria, and other severe thunderstorm warnings could follow in the afternoon or evening.
Thursday
Image: Forecast accumulated rain on Thursday, October 14, according to the ECMWF-HRES model.
On Thursday, a broad area of rain, showers and thunderstorms will spread over parts of QLD, NSW, the ACT, VIC, TAS and SA.
This will be a dangerous day of weather in each of these states.
In eastern Australia, severe storms are likely to develop on Thursday as cold air coming up from the south clashes with much warmer, moisture-laden air from the north and east. This will result in widespread showers and thunderstorms, which are likely to become severe in parts of QLD and NSW.
Some of Thursday's severe storms could also be supercells, most likely in southeast QLD and central and northern NSW. These violent rotating thunderstorms would have the potential to produce giant hail, destructive winds and possibly tornadoes.
Further south, showers, thunderstorms and hail are likely to develop over parts of SA and VIC on Thursday, within a broad mass of cold upper-level air passing over the region. Heavy rain and a few storms will also spread over TAS. Some areas of VIC and TAS could see severe thunderstorms on Thursday, with heavy rain the main threat.
Friday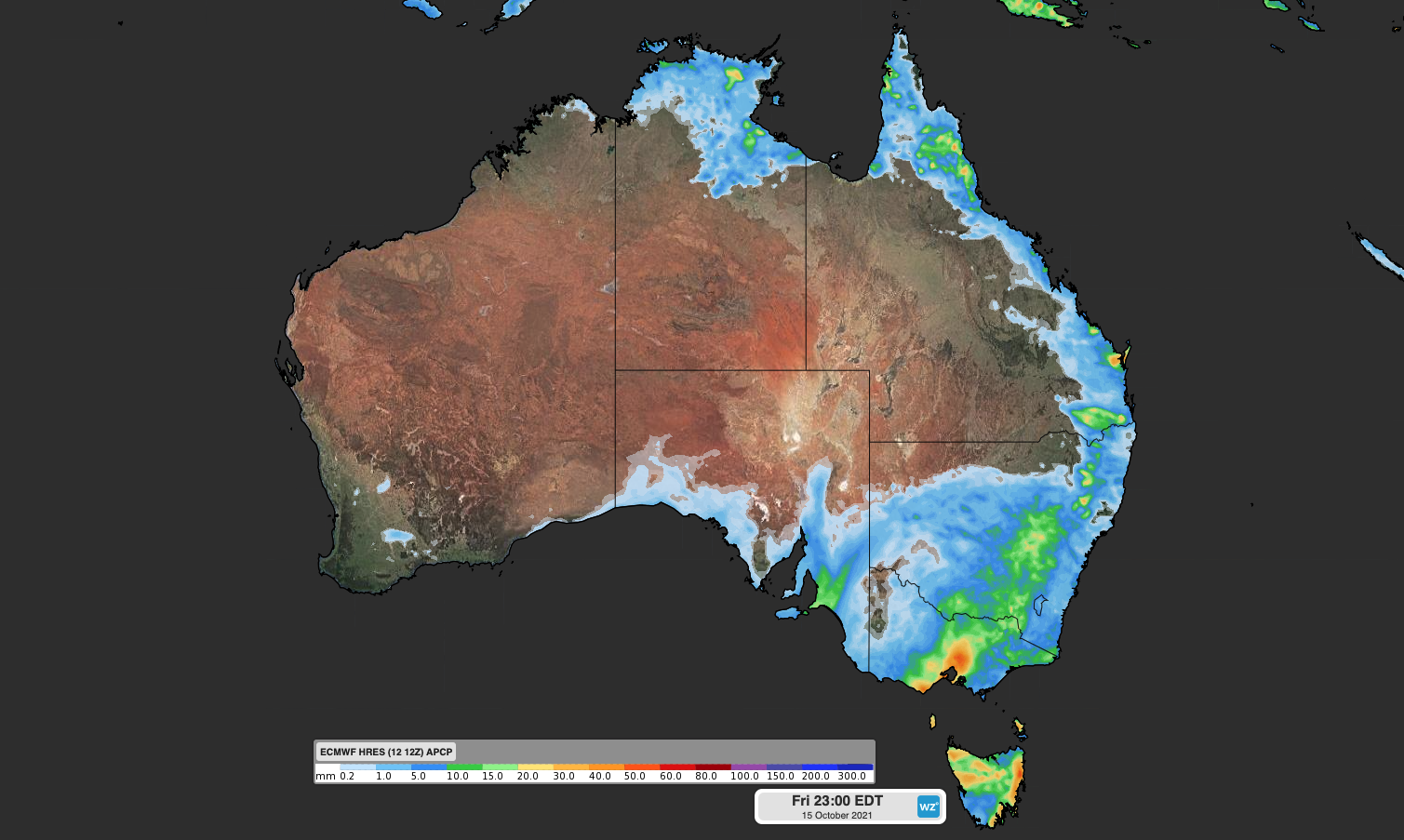 Image: Forecast accumulated rain on Friday, October 15, according to the ECMWF-HRES model.
Showers and thunderstorms will continue over parts of QLD and northern NSW through Thursday night and into Friday morning, before easing later in the day as the front moves offshore.
Further south, the low pressure system will linger over southeastern Australia throughout Friday, causing showers, thunderstorms and hail in TAS, VIC and NSW. The complex low will also produce blustery winds in some areas of southeastern and eastern Australia on Friday.
Snow will also develop from Friday into the weekend in the mainland Alps.
Saturday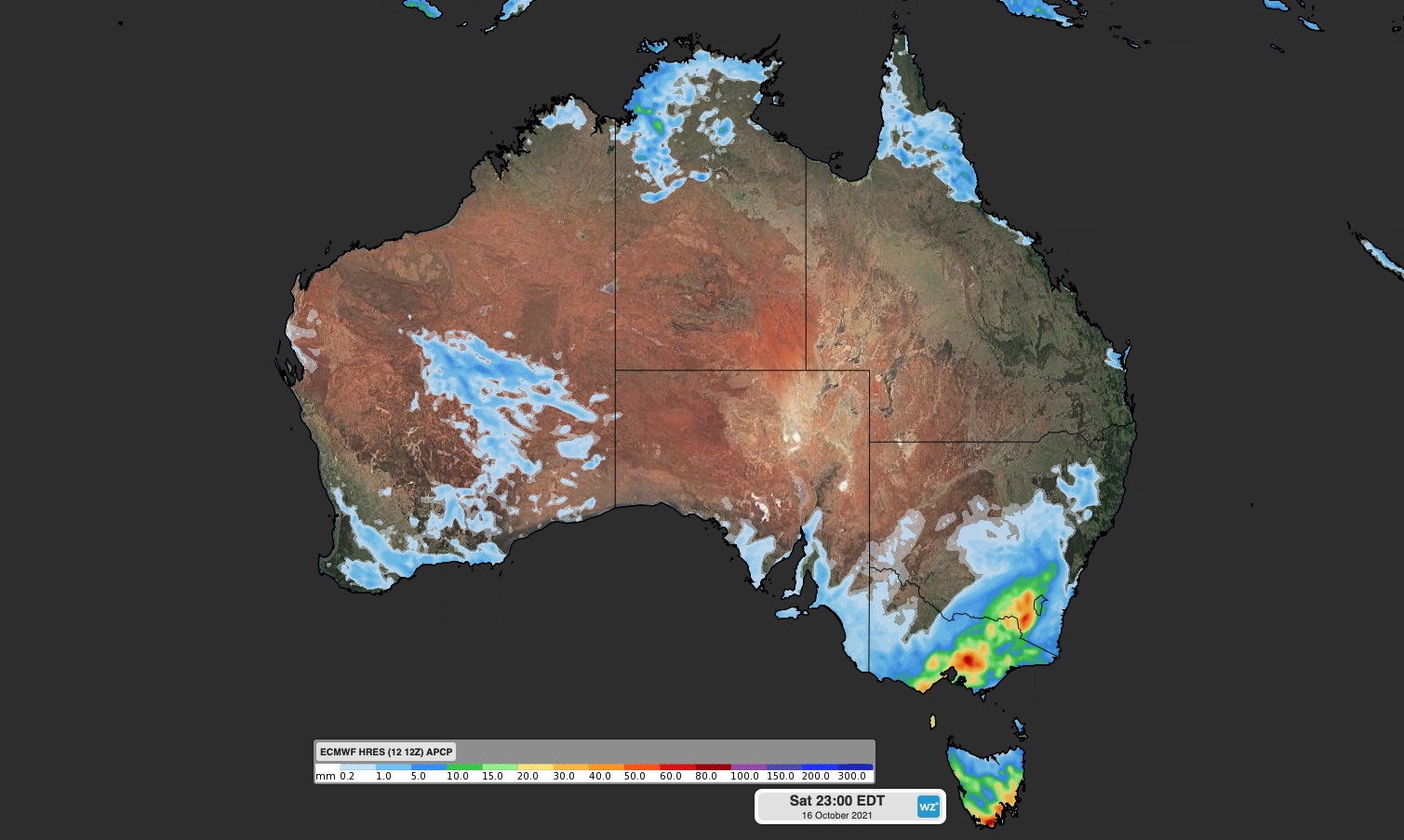 Image: Forecast accumulated rain on Saturday, October 16, according to the ECMWF-HRES model.
By Saturday, the focus of the weather will contract to southeastern Australia, where a deepening low pressure system should cause more rain and strong winds in TAS, VIC and NSW.
There's a good chance of damaging winds and locally heavy rain on Saturday, mainly about coasts and ranges that are exposed to the west and southwest.
Calmer weather should return from Sunday as the low pressure system finally moves out into the Tasman Sea.
This is a complex weather event, so be sure to keep up to date with the latest forecasts and warnings in your area if you live in southern or eastern Australia. For more information on our wind, rain and storm forecasting, please contact us at business@weatherzone.com.au.